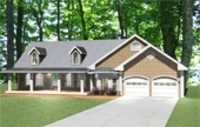 Newington, CT (PRWEB) December 18, 2008
Where's the builder who has the knowledge and the resources to build a custom home that can make all your neighbors jealous or a home addition that doesn't look like an eyesore? Okay maybe your goal is not to make your neighbors jealous; but instead, it's to build a custom home or home addition that is highly energy efficient and has more features than an iPod Touch.
The secret to finding such a builder starts on Google.
Top 3 Things You Want to Look for in a Builder or General Contractor for Your Dream Home Project
1. Honorable Reputation
Do they have a clean record with Consumer Protections and the Better Business Bureau?
2. Ahead of the Curve
Does their website indicate that they are capable of working with new technologies by providing you a vault of useful information?
3. Proven Excellence
Have they won any awards that would indicate that they are committed to customer service and superior work quality?
Not every design/build firm or contractor fits the bill. Don't choose your builder based solely on price alone either, because it is a common mistake made by people who want value, but don't want to pay for it. A reputable builder will stand out from the crowd by showing you detailed building contracts and understandable warranty booklets. A lesser grade builder will most likely rush you to sign up for one price, and then hit you with a ton of unexpected costs that they will claim were unforeseeable. See this guide for more realistic tips on choosing your home builder.
Flawless Home Additions Start with Proper Planning and the Right Company:
As true leaders in the Home Addition Building Industry, we devised a set of quick tips to help you make an educated decision in choosing your contractor or remodeling company.
1. Look for Experience
You are not going to call your eye doctor to fix your cavities are you? Just because a company has been around for awhile, does not mean that they are experts in everything. Hmm, I wonder if GM rings any bells? If you are looking to build a room addition, you need someone that has plenty of experience in mating a new structure to an older home. Lack of experience in this area tends to lead to improper exterior transitions; basically your addition will always look like an afterthought. And speaking from experience, if your builder/architect recommends their design over yours because of future resale value, it may be worth your while to pay attention. Some of the unattractive home additions out there are not necessarily the builders fault. Many times a homeowner insists on a design that satisfies them now, but will hurt them later.
2. Build What You Need
If you need an additional bedroom, think about all the furniture that is going inside of it and plot it out with dimensions on graph paper. It's very common for people to improperly plan a room's size, because they failed to plan their room with their furniture already in it. A good design/build company will be able to provide you with a virtual rendering of your room addition with all of your furniture inside of it. This is the same approach some car companies use when they build a car focused around the user experience and not exterior looks alone.
3. Get Pre-Approved
It's no secret that our economy is in a bind. You should obtain a ball park estimate for your home addition project and shop around for a loan to see if it is even possible. While large corporate banks maybe a little stingier with lending now, the mom and pop banks found in your local towns maybe more willing to help you with your renovations.
As a Multiple Winner of the Business Consumer Education Award by the Better Business Bureau, we like to do our part to help consumers make wise decisions. Our award winning website features articles, customer stories, photos, videos, estimators, and prices that will help you get started in building your dream home or converting your existing home into a spacious retreat.
Visit http://www.SimplyAdditions.com to learn about our formulas for perfect homes.
Quick links
Home Addition Packages with Prices
Custom Home Builder Info
Remodeling Estimators
Stories About Projects
Articles on Green Building
Articles and Tips for Consumers
National Remodeling Assistance Database
Simply Additions Has Recently Won the Following Awards

2008 Superior Service Award by Company Employee (from the Better Business Bureau)
2008 Excellence in Business Consumer Education Award (from the Better Business Bureau)
2008 Excellence in Website Marketing Message Award (from the Better Business Bureau)
2007 Excellence in Business Consumer Education Award (from the Better Business Bureau)
2007 Official Citation for Business Excellence (from the State Attorney General, Richard Blumenthal)
Simply Additions is a Design/Build Construction Company focused on building home additions and green custom homes. Our goal is to become the nation's number one source for building, design ideas and construction research. Please contact Voitek L. Klimczyk for media & business relations and Darius J. Kania for technical questions regarding construction and design work at (860) 436-2752 or visit us online.
Learn More about Simply Additions.
###