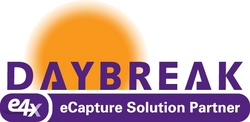 Frisco, TX (PRWEB) July 15, 2008
Daybreak Intellectual Capital Solutions, Inc., a provider of enterprise content management (ECM) software and consulting services, today announced the launch of its new partner alliance and channel program called the Daybreak ESP program. The program will help contribute to Daybreak's aggressive market expansion by establishing relationships with industry leading solution providers in the ECM and Capture spaces. Butch Reh, Daybreak's director of partner alliances, will manage all facets of program execution and partner recruitment. Reh, who joined Daybreak in March 2008, spent 10 years with EMC Captiva, most recently in their partner alliance program.
The Daybreak ESP program is designed to engage all types of partners, delivering resources and benefits that align with each partner's business model and relationship with Daybreak.

Strategic Alliance Partners are recognized leaders who deliver a broad range of solutions that integrate with, add value to and complement Daybreak eCapture solutions.
Value-Added Resellers/Agent Referral Partners resell and implement eCapture Suite software to new and existing customers, and contribute expertise in various vertical markets.
Technology Partners integrate eCapture Suite with their own products and services to support specific business requirements.
"We believe eCapture Suite offers a unique value proposition that our partners can readily apply
to provide compelling solutions to their customers," said Butch Reh, Daybreak director of partner alliances. "The combination of eCapture Suite's ease of use and out of the box integration with multiple ECM repositories makes it simple for our partners to deliver an enterprise-class distributed capture and delivery solution."
The Daybreak ESP program includes partner enablement and support, market/opportunity development, deal registration, and discounts on eCapture Suite software. The program objective is to help partners develop new and complementary revenue streams that capture a piece of the rapidly growing distributed capture market. To help kick off partner recruitment efforts for the ESP program, Daybreak is promoting its eCapture LaunchPad incentive, which provides accelerated discount levels for any partners who sign up by 8/31/2008.
Daybreak invites companies to explore the details of the new ESP program, as well as the innovative Daybreak eCapture Suite by visiting http://www.daybreakICS.com.
About Daybreak Intellectual Capital Solutions
Daybreak ICS is a leading provider of enterprise content management (ECM) solutions, enabling the world's top companies and government agencies to more effectively manage their information. Daybreak offers next generation content capture and delivery solutions that deliver high value, innovation, and usability. As an ECM technology leader, Daybreak provides innovative software products to organizations worldwide. For more information, call 972-668-8300 or visit http://www.daybreakICS.com.
###