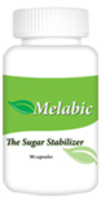 about 40 percent of U.S. adults ages 40 to 74 - or 41 million people--had pre-diabetes in 2000.
Houston, TX (PRWEB) December 3, 2008
Each year, more and more individuals are being slapped with a potentially serious medical diagnosis. They're being told by their doctors that they are insulin resistant. Also referred to as pre-diabetes, if left unchecked, insulin resistance can quickly morph into full-blown diabetes, bringing with it all the life-threatening complications associated with that disease. The good news is that positive lifestyle alterations can halt pre-diabetes in its tracks. A new all-natural nutritional supplement, Melabic, is helping to pave the way in that cessation. To learn how to organically keep insulin resistance from progressing into diabetes, visit Melabic, the sugar stabilizer, online at http://www.melabic.com.
According to the most recent estimates released by the U.S. Department of Health and Human Services, pre-diabetes is becoming a frequently more common diagnosis in the United States. Indeed, "about 40 percent of U.S. adults ages 40 to 74 - or 41 million people--had pre-diabetes in 2000." Even newer data "suggest that at least 54 million U.S. adults had pre-diabetes in 2002." That figure represents nearly a 32 -percent increase in just a two-year span.
These prevalence statistics speak for themselves. Diabetes is well on its way to becoming a national epidemic if Americans don't start taking control of their health. Proper diet and exercise can go a long way toward staving off diabetes, but in and of themselves, they're often not enough. Over time, the insulin resistant's blood sugar levels are prone to rise as their glucose control capability plummets. Eventually these important lab numbers creep into actual diabetes territory. By that time, medication and often insulin shots become necessary to keep the problem under control.
Melabic, the all-natural sugar stabilizer, offers a better - and safer - solution. Containing nine nutrients, each one hand-selected for its ability to rejuvenate the metabolic system, Melabic gets to the root cause of the diabetes problem and heals its consequences. With just one easy-to-swallow pill a day, insulin resistant individuals and pre-diabetics can preserve their kidney function, prevent blindness, eliminate the likelihood of amputation and eradicate risk factors for heart disease and stroke.
In fact, the product's developer is so sure that Melabic can make its users' bodies less resistant to insulin, and thereby reverse the first signs of diabetes, that she offers an unconditional guarantee on the product. Users of the Melabic nutritional supplement who do not witness a noticeable drop in their glucose readings can return the product within 90 days of purchase for a full refund.
For more information on how to naturally reverse your insulin resistance and pre-diabetes, contact Julia Hanf at juliahanf@gmail.com. To see the common-sense three-step Melabic system or to order the nutritional supplement, visit Melabic online at http://www.melabic.com/p/p.html.
Contact Information:
Julia Hanf
14781 Memorial Drive
Houston, Texas
juliahanf (at) gmail.com
http://www.melabic.com/p/p.html
###