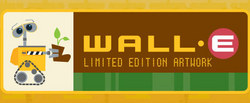 Ogden, UT (PRWEB) June 21, 2008
Sanders Art Studio.com in Ogden, Utah, is pleased to announce seven limited edition concept art pieces from Disney-Pixar's WALL-E Motion Picture.
What if Mankind had to leave Earth, and somebody forgot to turn the last robot off?
After hundreds of lonely years of doing what he was built for, WALL-E (short for Waste Allocation Load Lifter Earth-Class) discovers a new purpose in life (besides collecting knick-knacks) when he meets a sleek search robot named EVE. EVE come to realize the WALL-E has inadvertently stumbled upon the key to the planet's future, and races back to space to report her findings to the humans (who have been eagerly awaiting word that it is safe to return home). Meanwhile, WALL-E chases EVE across the galaxy and sets into motion one of the most exciting and imaginative comedy adventures ever brought to the big screen.
Also introducting The "Pix-cel" a proprietary technology to give a fully rendered continuous tone 3-D image directly from digital production files onto clear acetate and positioned on a giclee background also from a digital production file.
In addition, over 500 limited-edition Disney Fine Art Giclee's on canvases are available for purchase on a website and virtual gallery at Sanders Art Studio.com.
The website will be showcasing work from the artists listed below:
John Alvin - Toby Bluth - Tricia Buchanan- Bensen
James Coleman - Dick Duerrstein - Harrison & Peter Ellenshaw
Michael & Inessa Garmash - Manny Hernandez - Mike Kungl
Mike Kupka - Allison Lefcort - Stephen Reis - Tim Rogerson
John Rowe - Jim Salvati - Jim Warren - Trevor Carlton
Quantities are limited. Limited-Editions vary in size. © Disney elements © Disney-Pixar
*Quantities are limited. Offer valid while supplies last. Subject to restrictions and change without notice. Void where prohibited.
###