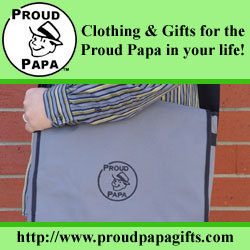 We've found that most of these kinds of gifts were targeted for sale to Moms. There was really nothing for the Dad or Grandpa. Since today's men are so involved in their children's and grandchildren's lives, we wanted a way to honor them
Los Angeles (PRWEB) May 1, 2008
Proud Papa Gifts, a new Internet boutique merchandiser specializing in gifts for the new father, fathers-to-be and grandfathers, is celebrating its second anniversary with the introduction of an expanded line of infant wear and clothing and gift items for men. Products can be purchased through the Proud Papa Gift online store at http://www.proudpapagifts.com.
Los Angeles-based Proud Papa Gifts founded by Pam Buttikofer, Carol Dang, Michele Fleming and Holly Zucker offers a wide assortment of merchandise targeted to both infants and Dads, all embroidered or screened with the company's recently trademarked retro "Proud Papa" logo.
Among Proud Papa Gifts new line of infant-wear are T-shirts, bucket hats, knit hats, bibs and onesies. This infant-wear all carries the company logo which ties in with the theme of honoring fathers.
For dads, dads-to-be and grandfathers, Proud Papa Gifts offers boxer shorts, BBQ aprons, fleece blankets, golf balls and towels, mugs, hats, T-shirts, diaper bags and other novelty items. All of Proud Papa Gifts prices retail from $10 to $40.
"We've found that most of these kinds of gifts were targeted for sale to Moms. There was really nothing for the Dad or Grandpa. Since today's men are so involved in their children's and grandchildren's lives, we wanted a way to honor them" says Proud Papa's Buttikofer.
Proud Papa Gifts products are finding their way into more and more baby store retail outlets, maternity stores and hospital gift shops. The company has already serviced clients in California, Virginia, Texas, Maryland, Connecticut and Idaho with further expansion expected this year.
For additional information on how to purchase Proud Papa Gift's merchandise or obtain samples, contact Pam Buttikofer or visit http://www.proudpapagifts.com. "Proud Papa" and its unique retro logo were recently registered in the United States Patent and Trademark Office.
Contact:
Pam Buttikofer, Owner
(877) 727-2443
http://www.proudpapagifts.com
###