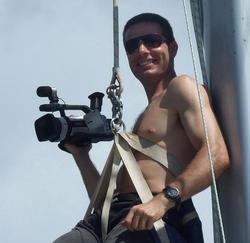 Thomas is a true inspiration for those who do not want to sit in an office all day, who truly seek adventure and love nature.
Sydney, Australia (PRWEB) March 7, 2008
Tourism companies sell an intangible product and the more information they can provide to potential customers the more likely these are to book, so they will offer free holidays and even pay tourists to create promotional holiday videos.
Hotelmarketing.com reports in its Oct. 2, 2007 issue that a nationwide survey by Taylor Nelson Sofres (TNS) for Google and AOL found that more than 75 percent of respondents said online video was as good as television for learning about advertisers, and more than 6 in 10 respondents said they had taken some action after watching an online video ad.
With more people gaining access to broadband Internet and 83 percent of travelers in the U.S. using the Internet to research or book travel (Prospectiv Travel Poll 2006), online video has become an important part of tourism marketing and may help companies to raise their booking conversion and search engine listing as well as gain exposure and generate interest. More than 250,000 people have watched Reissmann's holiday videos on YouTube alone: YouTube Videos
Thomas Reissmann, who is also a published author, has been a travel videographer for three years and has filmed adventure and trekking holidays, safaris and resorts in Europe, Africa and Australia. His videos can be viewed on Authentic Holiday Films
Thomas also holds a degree in Tourism Management and worked in the industry for many years. He now wants to share his knowledge of the industry and travel videography to enable others to get paid to go on holiday. He says that anyone with a camcorder, access to a computer and a willingness to learn can create promotional holiday videos that companies will pay for. He himself began as an amateur videographer and will guide people through the process of producing high quality video using basic equipment and skills.
His manual, 'How To Get Paid Filming Holidays -- A Guide to Producing Effective Promotional Videos for the Tourism Industry', available on Filming Holidays, is aimed at amateur and professional videographers alike, who may want a free holiday, get paid for their next adventure or want to become a travel videographer. It will also be of interest to tourism industry professionals who would like to shoot their own promotional videos, as well as students looking for experience and a way to finance their travels.
In addition to tourism marketing and videography, readers will learn about editing and how to sell their services to tourism companies. They will also receive a contact list of tour companies, operating thousands of holidays worldwide, and regular updates as well a monthly newsletter with more tips on filming holidays.
Sandra Steliga, living in the UK had this to say about his manual: "I mean you look at it and just think: wow, I want to do this for a living!"
Sally Renzenbrink from Australia said, "Tom shares his secrets and recipe for success in his manual, 'How To Get Paid Filming Holidays', which I found to be a simple step-by-step guide to filming video I'll get paid for, allowing me to go on my next holiday and stay there!"
Nasreen Aziz from the US thought, "Thomas is a true inspiration for those who do not want to sit in an office all day, who truly seek adventure and love nature."
The manual is now available on Filming Holidays for the introductory price of $US14.99 and anyone purchasing the manual this month will also receive a free subscription to the newsletter and regular updates as well as a second eBook on tourism marketing.
Thomas Reissmann, Travel Videographer
Phone: +61 432 899 247
Skype: tomtravelman
YouTube: tomtravelman
Email: tom @ filmingholidays.com
Website: http://www.filmingholidays.com
###