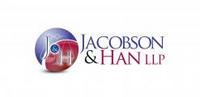 Application to Replace a Permanent Resident Card.
Los Angeles, CA (PRWEB) May 6, 2008
Jacobson & Han LLP (greencard4you.com) Los Angeles Immigration Lawyers Warn U.S. Residents About Green Card Renewal Requirements. "Green Card" refers to the official card issued by the U.S. government to those who become lawful permanent residents (immigrants) as evidence of their authorization to live and work in the United States. It is officially called Form I-551, the Permanent Resident Card (formerly known as the Alien Registration Receipt Card). It is commonly called the Green Card not because of its current color, but because of the original color of the card many years ago.
The "Green Card" is evidence of your status as a lawful permanent resident with a right to live and work permanently in the United States, as long as you do not violate any immigration laws. A "Green Card" instantly communicates to law enforcement officials and United States employers the person's legal status in accordance with United States immigration laws.
In August 1989, the Immigration and Naturalization Service (INS - now USCIS) began issuing "Green Cards" with a 10-year expiration date and required permanent residents to renew their Green Cards every 10 years. In addition, a "Green Card" that is too old, with out-of-date photographs or is damaged, cannot effectively serve as evidence of current immigration status, registration, identity, and employment authorization or re-entry documents. Current Green Cards have an expiration date stated on the front of the card and expire every ten (10) years. The USCIS puts a 10-year expiration date on "Green Cards" for Permanent Residents, not Conditional Residents (2-year expiration date), to protect against counterfeiting and tampering and to ensure that those individuals who may now be inadmissible, removable or deportable are brought to the attention of USCIS.
Green Card holders will not necessarily lose legal status in the United States if their card expires; however, permanent residents are required by law to carry evidence of their current legal status at all times (e.g. a valid, unexpired Green Card or the temporary proof of status you receive at the time of filing to renew your Green Card.) If permanent residents fail to renew an expired or expiring card, they may experience difficulties in obtaining employment, public benefits and re-entry into the United States after traveling abroad. It is important to note that USCIS will not penalize applicants for renewing their "Green Card" after it has expired, but applicants should apply to renew their "Green Cards" as soon as possible. Furthermore, under no circumstances should a permanent resident travel abroad with an expired card unless he or she has proof that a renewal for the Green Card was filed with the USCIS and is able to show proof upon entry back into the U.S.
"Green Cards" issued between 1979 and 1988 which did not state a specific expiration date did not be renewed because there was no expiration date. Lawful permanent residents who hold these permanent resident cards with no expiration date may replace their cards now, but there is currently no requirement to do so. It is important to note that these cards are now between 17 and 30 years old and are possibly damaged and with outdated photographs.
On August 22, 2007, the USCIS announced a proposed rule that all lawful permanent residents with cards with no expiration date must apply and obtain new "Green Cards." This proposed rule in no way affects the current validity of these permanent resident cards. Permanent residents who possess these cards may continue to use them as proof of permanent residency when traveling, when seeking employment, and at any time such proof is required. However, the USCIS is seeking to terminate "Green Cards" without an expiration date. USCIS believes that the replacement of these cards is vital to the security of the immigration process. The change would allow USCIS to issue more secure, tamper-resistant permanent resident cards, update cardholder information, conduct background checks, and electronically store applicants' fingerprint and photographic information so as to provide better evidence of the identity of the cardholders.
To renew your Green Card, you must complete and submit a Form I-90 "Application to Replace a Permanent Resident Card." Form I-90 applications to renew "Green Cards" may be submitted by mail or online at the USCIS website (http://www.usicis.gov). All applicants are required to provide current biographic and biometric (photographs and fingerprint) information. If an applicant cannot afford the necessary USCIS filing fee, he or she may request a fee waiver according to standard procedures. The specific requirements and procedures for applying to renew an expiring permanent resident card are set forth in the Code of Federal Regulations [CFR] at 8 CFR § 264.5.
Currently, processing times for the adjudication of I-90 applications, without any immigration issues, is usually 6-12 weeks. However, processing times can vary for each applicant based on particular facts. If you are outside of the United States at the time of the card's expiration and you have not applied for the renewal card prior to your departure, you should contact the nearest American Consulate or Embassy, USCIS office, or Port of Entry before attempting to return to the United States or filing Form I-90 for a renewal I-551 card. The USCIS encourages eligible residents to also consider applying for naturalization.
If a "Green Card" holder has had any criminal convictions after obtaining lawful status or has any legal concerns, it is extremely important to seek legal advice prior to filing for renewal or Naturalization. Many applicants discover the consequences of applying for renewal or Naturalization only after they have been placed in Removal (Deportation) Proceedings.
Section 264 of the Immigration and Nationality Act provides that, "Every alien, eighteen years of age and over, shall at all times carry with him and have in his personal possession any certificate of alien registration or alien registration receipt card issued to him. Any alien who fails to comply with [these] provisions shall be guilty of a misdemeanor."
USCIS Press Release: Permanent Resident Cards Without Expiration Dates Must Be Replaced - USCIS Proposes Rule Setting 120-day Replacement Period
http://www.uscis.gov/files/pressrelease/I551Replacement.pdf
Jacobson & Han LLP
http://www.greencard4you.com
(213) 620-0222
Free Consultation
Los Angeles Immigration Attorneys
Free Consultation
Free Legal Advice
Full Service Immigration Law Firm
Serving Clients Worldwide
###