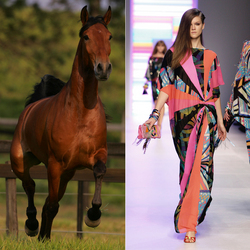 Palm Beach, FL (PRWEB) January 23, 2008
For the first time in Palm Beach County, the noble and fashionable Lusitano horse collection is arriving for auction from Brazil. This event will feature new collections from international designers such as Emilio Pucci and others at the International Polo Club of Wellington. A portion of the event's proceeds will benefit the Humans & Horses Research Foundation.
Interagro: With nearly 600 horses, Interagro, Brazil is the largest Lusitano breeding and export center in the world. Cecilia Gonzaga heads the stud- farm initiated on a historic coffee plantation in 1975, by her father, Dr. Paulo Gaviao Gonzaga, the author of three books about the Lusitano horse ... the Lusitanians selected a noble, easy to ride horse, famous for its intelligence and willingness to work. These qualities allied to the modern development of the equestrian sports and the exceptional performance of the Lusitanos in all disciplines, from jumping to dressage and driving created an ever growing demand for the Lusitano and its possession became a symbol of status.
Wed., March 5th, 2008 Opening Reception and Preview:
Cocktails and Hors d'oeuvres followed by the 2008 Lusitano Collection and Fashion Showcase.
Time: 2:00 p.m. - 5:00 p.m.
Thurs., March 6th, 2008 Horse Try Outs: Interested buyers and trainers can ride the horses to test their skills, as well as view physical exams of each horse conducted by the on-site veterinarian.
Time: 10:00 a.m. - 5:00 p.m.
Fri., March 7th, 2008 Horse Auction, Dinner and Fashion Show: The big night!
Guests will enjoy a night of prestigious horses, fine dining, entertainment and fashions.
Time: 5:00 p.m. Cocktail reception
6:00 p.m. Horse Auction - Paul Z Martin, Jr. Auctioneer -
Martin Auctioneers AU#588
8:30 p.m. Dinner and Fashion Show featuring Emilio Pucci's Spring/Summer 2008 Collection.
General Admission Tickets for all 3 days:
$275 single or $500 for a couple
Checks or credit cards accepted
General admission tickets: 1-866-540-8809
Event participation & press: 1-561-515-6097
Horse auction registration: http://www.LusitanoCollection.com
Event updates: http://www.DevineStyle.com
###