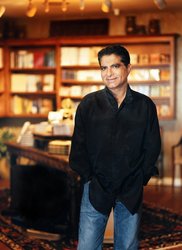 The Chopra Center has developed a healing approach that combines the healing arts of the East with the best in modern Western medicine
New York, NY (PRWEB) March 17, 2008
This spring the Chopra Center for Wellbeing is coming to New York City with Renewal Weekend, where renowned authors and physicians Deepak Chopra and David Simon will help attendees discover their personal path to true health and well-being.
Renewal Weekend is the ideal starting point for individuals who have wanted to explore holistic healing but have been too busy or harried to even figure out where to begin. Deepak Chopra and David Simon designed Renewal Weekend as a practical introduction to mind-body medicine and Ayurveda -- India's 5,000-year-old healing science.
"The Chopra Center has developed a healing approach that combines the healing arts of the East with the best in modern Western medicine," said Dr. Chopra. "Renewal Weekend is about helping participants benefit from this approach in their own lives. Those who join us in New York will learn daily practices for releasing stress, emotional turmoil and physical pain."
At Renewal Weekend, participants will learn essential tools and techniques for translating their good intentions into great choices, including:

Primordial Sound Meditation
Mind-body integration and Ayurveda
The wisdom of natural herbs and your inner pharmacy
Revitalizing yoga classes (beginning and advanced)
Holistic techniques for releasing stress and anxiety
A personal daily routine for calm, renewal and balance
Renewal Weekend will take place at the Park Central Hotel - just blocks away from Central Park, and only minutes from the Chopra Center & Spa@Dream, one of the few places in the U.S. that offers authentic Ayurvedic massage treatments.
For more information, please call 888.736.6895 or visit http://www.chopra/renewalnyc
###