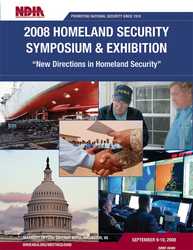 This is a critical year for businesses to gather as much intelligence as possible to be able to position products, services and overall capabilities in a manner that best serves the needs of the incoming administration and the future of the Department of Homeland Security
Arlington, VA (PRWEB) August 19, 2008
Speakers from the leading Presidential campaigns, Congress, the Administration, and other opinion leaders will convene in Washington, DC on September 9th-10th to share their views about future homeland security policies and programs. Full details of the 2008 Homeland Security Symposium and Exhibition may be viewed at http://www.NDIA.org/meetings/8490.
As a change in Administrations approaches, NDIA's Homeland Security Division has assembled a robust agenda under the theme of "New Directions In Homeland Security," and packed it with influential speakers.
Highlighting this year's symposium will be a Presidential Candidates' Vision for "New Directions in Homeland Security" Panel with Former Secretary of the Navy John Lehman presenting the McCain campaign vision and Special Advisor on Homeland Security, Ruchi Bhowmik presenting the vision of the Obama campaign.
Symposium content will include Congressional perspectives, DHS procurement outlook, small business opportunities, infrastructure protection, immigration policy and implementation, and preparedness and disaster response segments featuring top level officials from Congress, DHS, and FEMA.
The Symposium, to be held in Arlington, VA, will include an exhibition of homeland security related technologies products, services and technologies.
Featured Speakers will include:

Congressman Bennie Thompson (D-MS), Chairman, Committee on Homeland Security, U.S. House of Representatives
Congressman Dan Lungren (R-CA)- Ranking Member, Subcommittee on Transportation and Infrastructure Protection, Committee on Homeland Security, U.S. House of Representatives
Mr. Robert Stephan, Assistant Secretary for Infrastructure Protection, DHS
Mr. Bruce Davidson, Deputy Director, Office of SAFETY Act Implementation, DHS
Mr. Thomas A. Cellucci- Chief Commercialization Officer, DHS
Mr. Thomas Essig, Chief Procurement Officer, DHS
Mr. Kevin Boshears, Director, Office of Small and Disadvantaged Business Utilization, DHS
"With the level of speakers this symposium has attracted, it is shaping up to be a real 'who's who' of Homeland Security," said NDIA Vice President of Operations, Barry Bates. "Providing industry with the information it needs to shape its business strategy to support DHS requirements is a key component of our mission, and it's even more important to provide the full spectrum of possibilities in an election year."
In addition to providing industry with business intelligence for the future directions of Homeland Security policy, programs and procurement objectives, the symposium will also offer provide Government homeland security professionals the opportunity to visit a broad array of industry product and service exhibits.
"This is a critical year for businesses to gather as much intelligence as possible to be able to position products, services and overall capabilities in a manner that best serves the needs of the incoming administration and the future of the Department of Homeland Security," Said Bob Kelly of Centauri Solutions and NDIA's Homeland Security Division Chairman.
About the NDIA Homeland Security Division:
The Homeland Security Division focuses on the protection and security of the assets, information, facilities, and resources of the government, military, and private sector organizations which comprise the technological, military, and industrial infrastructure of the United States. The Division provides input and advice to a wide range of agencies and departments of federal, state, and local governments, and to commercial, industrial, and academic institutions.
###