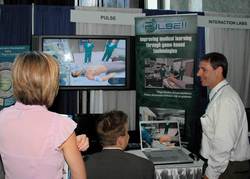 Nobody in the world can do what America is doing right now
Arlington, VA (PRWEB) August 13, 2008
the National Training and Simulation Association's Internet Television Network, SimTV.org, is broadcasting complete video coverage of simulated interactive research and training tools, systems, and environments that were on exhibit at the Rayburn Office Building on Capitol Hill. The U.S. Congress and the National Training and Simulation Association jointly presented the event in the nation's capitol in July. Exhibits included modeling and simulation technologies with focuses on national security, medical training, vehicle operation, cultural and linguistic applications, Olympic security and firefighter simulations. Complete coverage of the event can be found at http://www.SimTV.org/CapitolHill link.
Coverage of the event includes exhibitions, interviews and speeches including words from Congressman J. Randy Forbes, Congressman Solomon Ortiz, Congressman Tom Feeney and Dr. Joshua Epstein, Director of the Center on Social and Economic Dynamics at The Brookings Institution.
"All of us standing up here today are absolutely convinced that what you're doing is important for the national security of the country, and not just militarily," said Congressman J. Randy Forbes while addressing exhibitors at the third annual exposition on Capitol Hill. "As you know our medical simulation bill has an opportunity to transform what we do in medical training and teaching."
"We are training astronauts, we're training medics, we're training warfighters, we're training people. Whether it's driving an automobile, a hummer or a train, we can do it in a safe and friendly simulation environment so that everyone can do a better job," Said Congressman
Tom Feeny.
The modeling and simulation community is not just focused on future technologies however; it is also focused on making sure that the industry has a pool of qualified applicants for future M&S jobs in the United States.
"Nobody in the world can do what America is doing right now," said Mike Robinson from Virginia Modeling, Analysis and Simulation Center (VMASC). "But if we are complacent and we don't invest in modeling and simulation education, we don't encourage our students to do that, then international students are going to take our place. Because the US Government was so supportive in the early 1990s we are generations ahead but the gap is closing."
About NTSA:
The National Training and Simulation Association (NTSA) is the largest organization in the United States representing the interests of the modeling and simulation industry and community of practice. NTSA sponsors and organizes the world's largest modeling and simulation exhibition, the Interservice/Industry Training, Simulation and Education Conference, which annually attracts over 500 exhibitors. In addition to the Development of internet television network, SimTV, NTSA also organizes numerous other exhibitions, conferences and programs throughout the year. For more information, go to http://www.trainingsystems.org/.
Contact:
Press inquiries should be directed to John Scott Williams at JWilliams @ ndia.org,
703-321-0504
http://www.trainingsystems.org
###