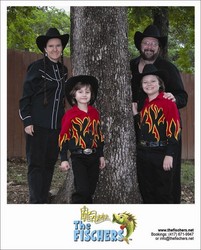 bitter and clinging to their guns and religion
Branson, Missouri (PRWEB) October 24, 2008
Against the backdrop of recent comments by Barak Obama about those in rural, American, small towns being "bitter and clinging to their guns and religion" comes a new CD/DVD by The Fischers entitled "Don't Make Me Come Down There!" "Stone-Cold Dead," is an in-your-face, Second Amendment song that drives home the chorus, "Ain't no way they're gettin' my guns unless I'm stone-cold dead!" You might remember a similar quote attributed to Charlton Heston, when he raised a Revolutionary War musket over his head at a major National Rifle Association meeting and yelled, "You can have my guns when you pry them from my cold, dead fingers." The spirit of that quote is captured in this song and is sure to be a hit with those who embrace the right of American citizens to bear arms.
Fischer, born in '47, grew up with guns, hunted rabbits, squirrel, quail, and other small game from a very young age. Mike's father, a retired Air Force Colonel, had a collection of guns from his government issue .45-caliber colt to a Japanese Nambu machine gun he brought home from Okinawa after the war. Fischer remembers his Dad strapping that .45 to the steering column of their 1950 Studebaker when the Family drove across the States on vacation back in '54. "As kids, Dad often took us out shooting. Our targets were beer cans that we'd throw into the air, and we'd have contests between Dad, myself, and my three brothers to see who could keep that can up in the air the longest by blowing holes in it with a pistol that we'd draw as soon as the can was thrown. Why, I remember one time keeping that can up in the air for five minutes, and I'd still be there today except we ran out of ammunition. Dad taught us that we were never to lie, so you'll have to forgive me for that last story about the cans. He taught us to respect guns, always treat them as if they were loaded, and never point a gun at someone you don't intend to kill. Needless to say, we never pointed our guns at anyone."
"Dad also taught us by his example to love America. He was straight up and down and as red, white, and blue as they come. You didn't have to guess what he was thinking. One thing we all knew that really set him off were those folks who took the oath of office to 'support and defend the Constitution of the United States against all enemies, foreign and domestic' but failed to do so. To him they were traitors. Some of his favorite sayings were, 'Nuke 'em 'til they glow in the dark and then shoot 'em!' and, for violent criminals it was 'Shoot'em and let God deal with them on the other side!' Now, for those of us who are God-fearing and live in the center of our great nation, the 'Heartland,' the "flyover states" -- you know, away from the two coasts and all those weird, liberal people that live there. We can laugh at the statements my Dad made and know exactly what he was talking about. Of course, he wasn't serious about nuking people 'till they glow in the dark, but there was a certainty in his saying that let you know exactly where he stood on the issues and what he'd do if he thought he could get away with it. My Dad was a patriot!"
"Don't Make Me Come Down There" by the Fischers is good, down-home "country-tinged, oldies, rock and roll" music that you can sing along with and mean it. It's all about God, Love, Country, Pro Life, Pro Family, Pro Creation, and other wholesome material that country folks typically believe, and if you don't like that that sort of thing, then, maybe you live on the coast.
The Fischers, Mike and Karyn and their two boys Sam (11) and Reuben (7), are a Christian family which adds a twist to the old quote, "A family that prays (and plays) together stays together." Mike And Sam Fischer got their start performing together at a church picnic in Houston. Mike was asked to get up and sing some of his original songs and had no sooner started when 5-year-old Sam jumped up on the bench next to his Dad and started belting out the songs he knew so well from home. Folks were astounded at his boldness and stage presence and several said that he "ought to be on TV." The Fischers moved to Nashville where they played all the famous places that are open to up and coming artists. It was there that Mike and Sam recorded their first album together, also available at their website. Mike confesses that it's really Sam that is the star of the show. He's just a natural-born entertainer, and there's no place he'd rather be than on stage.
Karyn Fischer debuts her recording talents on a beautiful song called "The Famine," written by Mike's daughter, Kerenina Fischer. (Full story on the website)
Both Mike and Karyn have served as missionaries overseas and, between them, have over 40 years in Australia, India, Japan, Russia, Malaysia, Thailand and China. They are some of those Christians still "clinging tightly to their God and guns." When you listen to their music, you can hear those deep-seated beliefs coming through. For a good dose of value-driven, red, white and blue, check out their film clip, "Get Out and Vote," at: http://www.prweb.com/releases/political/controversial/prweb1363514.htm
You can listen to portions of the Fischer's songs, purchase individual. song downloads or whole album downloads, or you can order their CD's and DVD to be mailed to you. It's all on their website at: http://www.thefischers.net. There are a lot of pictures and articles on the website, and much more, and, they invite you to visit.
# # #