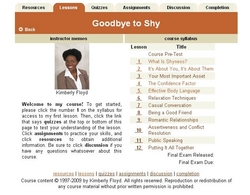 With social anxiety, fear of being judged and saying the wrong thing rules you. You long to talk but fear keeps you quiet or makes you avoid social situations. Missed opportunities haunt you
Atlanta, GA (PRWEB) August 11, 2009
Kimberly Floyd was so shy in high school that a math teacher joked, "She's so quiet I hardly know she's in here." Voted 'Quietest Girl' in school and tired of feeling invisible, overcoming shyness became a priority as an adult. Based on her success, she created 'Goodbye to Shy', the first online course to help shy people gain social skills and experience the joy of speaking without fear.
A recent Anxiety Disorders Association of America survey found that social anxiety plagues over 15 million American adults. They fear situations like starting a conversation, giving a speech, or even making a phone call. These events trigger anxiety, rapid heartbeat, blushing, trembling, and shortness of breath.
"With social anxiety, fear of being judged and saying the wrong thing rules you. You long to talk but fear keeps you quiet or makes you avoid social situations. Missed opportunities haunt you," Floyd said. "But there is hope. Shy people can receive the anxiety help they need and social anxiety can be overcome."
Floyd adds that overcoming social anxiety is crucial, especially in an economic recession. "Effective communication skills are critical when competition for jobs and business is fierce. You can't afford to be shy. You must know your value and be able to present yourself with confidence. The 'Goodbye to Shy' online course is the solution."
Liz Crawford, a 'Goodbye to Shy' graduate, is succeeding in overcoming shyness. "During my childhood, I was bullied by the same person for about 5 years. Although I thought I survived, I did not realize that I was hiding behind the experience. Now that I am armed with the knowledge from 'Goodbye to Shy' I am able to meet new people and try new things that I once thought to be awkward or uncomfortable."
The 'Goodbye to Shy' online course is currently syndicated to over 1500 colleges and universities in the U.S., Canada, and Australia. The course:

Offers 24/7 availability
Lasts six weeks and new sessions begin monthly
Features interactive discussion areas that enable shy people to relate to others working on overcoming shyness in an environment of privacy, support, and encouragement.
Although written for adults, Floyd also adds that the course benefits parents and teachers seeking to understand shy teens and their issues in overcoming shyness. "This knowledge can help parents and teachers increase their teen's confidence and bring out the best in them."
About Kimberly Floyd
Kimberly Floyd is a wellness coach and author. Through the Goodbye to Shy course, her goal is to help shy people recognize their unique gifts, share their value with others and face each day with renewed optimism, confidence and grace. For more information and tips on overcoming shyness, visit http://www.goodbyetoshy.com.
###