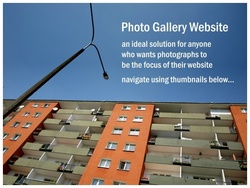 ideal for anyone who wants photos to be the focus of their website
(PRWEB) December 14, 2009
Photo Gallery at photo-gallery-website.co.uk is a web publishing solution first launched last year, new features now include improved search optimisation, faster loading, smooth transition between images and an animated cover flow version is also due for release shortly at rubberdragon.pl to allow users to visually flip through slides via click or mouse wheel.
Designed for anyone who wants photographs, products or graphics to be the main focus of their website (as opposed to text and navigation), Photo Gallery is ecommerce enabled allowing publishers to sell photographs or products. An online shop version of the photo gallery was completed recently for Swindon based Kudos Fencing, displaying a wide range of fences and gates, see it live at: http://www.diy-fence.co.uk .
Attention of visitors will be on the slides presented, meanwhile the beauty of the system for publishers is the administration area, allowing them to easily add new photographs, categories, webpages, text and links as well as online payment options. Titles, keywords and tags important for search optimisation can also be added via the administration area and the photo gallery has performed very well in search results.
Features List

focus on photographs (slides, products, images, designs)
bespoke visual interface design
ecommerce ready
content management system
optimised for good search placement
variety of slide show effects available
free hosting for one year
great pricing options available
If you have products or images on which you want your visitors to focus, then the Photo Gallery solution is for you. Photo Gallery has been designed and developed with Javascript and Ruby on Rails by Swindon based website design agency Rubber Dragon Limited.
###