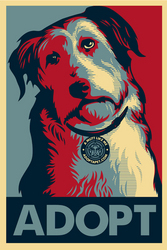 On the heels of Obama's comment, I got a call from Pia Salk, an animal advocate who works with North America's largest non-profit pet adoption website, Adopt-a-Pet.com
Los Angeles, CA (PRWEB) January 10, 2009
Adopt-a-Pet.com today announced the launch of its ADOPT Campaign with an image developed by Shepard Fairey, the artist widely known for his Barack Obama "HOPE" image. What better advocate could our nation's shelter animals have than artist Shepard Fairey, the man TIME magazine named "Icon Maker" of the year!
"An image has the power to move a country. The choice to adopt has the power to save millions of lives," said Adopt-A-Pet.com spokesperson and human-animal bond expert Dr. Pia Salk. "We are so grateful that Shepard shares our belief that our four-legged U.S. residents deserve hope and progress too. With five to seven million adoptable animals killed in the U.S. each year, they desperately need it. It's long overdue!"
Now the artist who made Obama an icon though his art, has gotten behind the plight of our furry U.S. residents in an effort to save the lives of animals currently awaiting adoption in shelters across the country. Fairey developed an ADOPT image featuring a mutt that will serve as the national campaign centerpiece to raise awareness about the importance of adopting pets and to provide the animals of our country with hope and positive change too. Fairey has made an icon out of the American mutt, proving that every mutt is truly a masterpiece! Pets are non-partisan and so is this effort to unite Americans in ending the killing of five to seven million adoptable shelter animals per year. A new Web site to promote the image and encourage people to wear it and share it will launch in conjunction with the campaign, and a series of national initiatives.
Our nation's shelters are filled to capacity with all kinds of amazing adoptable animals including, as Obama put it, "Mutts like me." In response, Adopt-a-Pet.com launched MuttsLikeMe.com. In the spirit of hope and progress, Adopt-a-Pet.com is taking this opportunity to promote the inherent worth of all shelter animals, whether mutts or pure breeds, and urging the public to visit the website for free downloads of the image to post in their neighborhood or on their personal websites.
"On the heels of Obama's comment, I got a call from Pia Salk, an animal advocate who works with North America's largest non-profit pet adoption website, Adopt-a-Pet.com," said Fairey; "Pia simply asked if I might be willing to collaborate on a way to have my art help these animals."
"As most of you know, I'm a big believer in speaking up for all who suffer injustice, regardless of gender, race, sexual orientation or in this case, species! And I'm all for adopting from the shelter. The image I created for this print reminds me of a dog I had as kid, a mutt named Honey. I have created a limited edition run of 400 signed and numbered silk-screen prints that will be available through Adopt-A-Pet.com. Proceeds will go to getting the furry non-partisan U.S. residents, who share our country, saved and into homes."
For downloadable images, please visit http://www.adoptapet.com/media .
About Adopt-a -Pet.com: Adopt a Pet (formerly 1-800-Save-A-Pet.com) is North America's largest non-profit pet adoption website, helping over 7,000 animal shelters, humane societies, SPCAs, pet rescue groups, and pet adoption agencies advertise their homeless pets to adopters for free. Adopt-a-Pet.com displays photos and descriptions of adoptable pets to over 1.5 million people seeking to adopt a dog or adopt a cat each month.
###