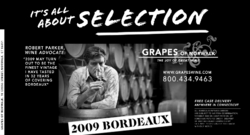 ...there is no better wine than the top vintages of Bordeaux and 2009 is definitely one of the greats.
Norwalk, CT (PRWEB) June 2, 2010
Bordeaux is the metric by which all of the world's wines are measured and most certainly when it comes to the cellar. Both in terms of how the wine ages and increases in value, there is no better wine than the top vintages of Bordeaux.
The wine world has descended on Bordeaux like never before, to taste the vintage, compare notes, listen to the Chateaux' representatives and their winemakers and hear from the pundits.
Well, the verdict is in and there is no question but that 2009 Bordeaux is a spectacular vintage, literally one for the ages.
Among those pundits, none is more widely read that Stephen Spurrier, master taster of Decanter, the world's most widely read wine publication. Spurrier, who put together the famous Judgment of Paris tasting in the 1970's calls 2009 Bordeaux simply "the best of his lifetime."
He gives Five Stars, Decanter's highest award, to all five First Growths: Chateau Haut-Brion, the Graves from Pessac-Leognan; Chateau Margaux; and Chateaux Latour, Lafite-Rothschild and Mouton-Rothschild, all of Paulliac.
Wine Spectator's James Suckling says of the 2005 growing season "summer weather was impeccably warm, dry and sunny. The water table in the soil was high enough to offset the dry summer, and a little rain in September revived the vines completely, helping the fruit mature to near perfection."
There is a fairly new, quite significant element in Bordeuax has altered the landscape of Bordeaux purchasing, probably for some time to come, perhaps permanently. Up until very recently 80% of all classified Bordeaux ended up in the United States.
No longer is this the case.
Markets have emerged in Russia, Hong Kong and China, in a big way, as well as the whole Pacific Rim. This huge demand from these new customers means that in a top vintage in Bordeaux like 2009, demand for the finer Chateaux will be high and there will be much less to go around.
The recognized modern classic vintage is 1982 and no vintage has been compared more favorably to 1982 than the 2009 vintage.
James Suckling, the European editor for Wine Spectator comments, "The 2009s have the same juicy fruit and rich, round tannins as the 1982 but the wines are obviously better made-everything from picking half the amount of grapes as were harvested in 1982 to working in a cleaner, more precise way with vinifications and barrel maturation. Today, it's a new world with the top names of Bordeaux."
Perhaps no wine critic has the following of U.S wine reviewer Robert Parker.
His Wine Advocate, first published in the 1970's, has unsurpassed influence on the perception and price of red Bordeaux. A wine rated highly by Robert Parker can double or triple in price. The Bordelaise chateaux release their scores after they have received Parker's scores. And Robert Parker has now spoken.
His opinion on the 2009 vintage? "It may turn out to be the finest vintage I have tasted in 32 years of covering Bordeaux."
More wines have got almost perfect scores than ever before. And a third of the more than 110 red Bordeaux which Wine Spectator has tasted en primeur so far have received scores ranging from 98 to 100 points.
Many Chateaux believe they have made their best wines ever. A great number have claimed that this is the best young vintage they have ever tasted.
The great winemaker Christian Mouiex, who makes the likes of Chateau Petrus, now in his fortieth year of winemaking in Bordeaux comments, "I have never seen anything like it in my career." The great Bordelaise Jean Michel Cazes of Chateau Lynch Bages compares 2009 to the great 1982 vintage. "The wines are rich and powerful, yet smooth and refined at the same time, and the acidity is very good."
Famous winemaker and Professor of Oenology at the University of Bordeaux, Dennis Dubourdieu claims that there are five conditions that have to be satisfied for there to be a great vintage in Bordeaux and I quote,
"(1) An early flowering at the beginning of June;
(2) A healthy and uniform fruit set, meaning hot, sunny, relatively dry weather;
(3) The véraison, which is the change from green to red grapes, must begin early (in 2009 it started in late July, rather than August);
(4) The grapes have to ripen fully, which means there must be warm weather with just enough rainfall in August and September to prevent photosynthesis from shutting down and stressing vines; and
(5) September and October have to be generally dry, sunny, and warm, without excessive heat spells."
All five conditions were satisfied in 2009.
I feel Robert Parker sums it best in what he calls the Bordeaux Paradox, "In that sense, this is the glory of the 2009s. For as big and rich as well as high in alcohol as they are, they are also remarkably delicate, fresh, and pure. This paradox, albeit a wonderful one, is unprecedented in the three plus decades I have been tasting Bordeaux barrel samples."
Is this the greatest vintage ever in Bordeaux... only time will tell?
There is no question that it is definitely one of the finest in modern times, will be priced more fairly than 2005 and I will be putting cases of 2009 away in my cellar.
If you are interested in claiming 2009 Bordeaux wine for you cellar as well, 2009 Bordeaux futures are now available.
# # #