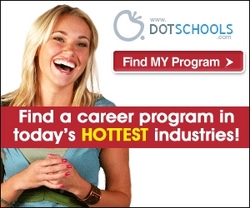 The New DotSchools.com provides all prospective students with customized access to higher education. - Victor Valdez, CEO
Orange, CA (PRWEB) December 16, 2009
Victor Valdez, the CEO of Affnet.com, is proud to announce the release of the company's Beta version education portal Dotschools.com.
As a foundational pillar in Affnet's Education business, the DotSchools portal is a free online resource that can assist prospective students in search of top online colleges and campus schools find degree and certificate programs best suited to advancing their professional and personal goals. Affnet's COO, Kent Keilback readily admits "education portals aren't new in the online space," but highlights that it's the "DotSchools' proprietary technology that sets it apart from the competition as it is simple to use and is able to consider the unique criteria each prospective student brings to the table when searching for his or her ideal academic experience."
Dotschools' advanced technology constantly improves the knowledge of each prospective student, allowing them to continuously refine the list of schools and programs until one's found that best matches his or her ultimate academic desires. Affnet's CTO and Co-Founder Clint Harritt says, "Dotschools doesn't match students with any school he or she is capable of getting into – it finds the right school."
Furthermore, the portal provides key information regarding individual schools, vital comparisons on online vs. campus education, accreditation information, military benefits, the value an education can provide in employment, and many other critical pieces of information for people of all age groups. "These new features contained in Dotschools further strengthens our relationship with our Career Education Partners as well as demonstrates our expertise and the ability of the Affnet Team to provide relevant in-time products that meets the continuing demands of our Education Partner's Student Recruitment needs," said Chad Lavallee, Affnet's VP of Products.
To have your Career Education School included in the Dotschools Portal, please contact Matt Mereghetti, VP of Sales for Affnet.com by email at matt(at)affnet(dot)com or by telephone at 949-608-0839 Ext. 9109.
About Affnet.com:
Affnet.com, is a leader in vertical media and marketing online since 2003, specializing in pay-for-performance lead generation in both Education and Financial Services verticals. Affnet's full-service approach combines direct marketing expertise, vast search and media reach, and industry-leading technologies to deliver dramatically improved results for clients. Affnet is headquartered in Orange County, California, with satellite offices in Overland Park, Kansas and Toronto, Ontario Canada. For further information, please visit the company's Website at http://www.affnet.com.
About Dotschools.com:
Dotschools.com is part of Affnet and is an online higher-education portal that can assist prospective students in finding degree and certificate programs best suited to advancing their professional and personal goals.
###