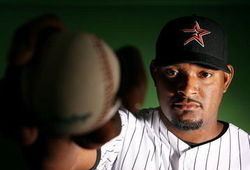 The economy is arguably good in our line of business, probably because people want to cheer up and have fun after all the depressing news on television, even after losing a household income source in some cases
Houston, TX (PRWEB) March 13, 2009
Houston is heavily invested in upstream and downstream energy, as well as a massive number of employees at NASA's Johnson Space Center. Cultural events and tourism are also a helpful addition of diversity to the economy, but largely can be viewed as an indicator of the local and national economic mood. Is it possible that Astros ticket sales could be an indicator of the local economy in Houston? MyTicketIn.com says yes...
President Obama has been anything if not frank in recent weeks about the current recession and the very real challenges ahead in terms of the national economy and the trickle-down affect of the corporate credit crunch. Massive layoffs have been happening nationwide, especially in the more blue-collar cities where factory and construction layoffs hit the workforce fast and hard, despite the efforts of some companies to prolong the inevitable. Some sectors of the economy are up, however. In particular, Houston sports and other entertainment event tickets sales appear to be doing rather well with no substantial dip in the past three years. In Houston, TX, this means Rodeo Houston concert tickets, and Houston Astros tickets, any reservations about the 2009 lineup aside. Call it timing, call it a collectively upbeat attitude, a national stiff upper lip, but people are holding up well for such dire circumstances, despite a record 8.1% unemployment dip nationwide projected by the current administration, per Paul Krugman at the New York Times. The DOW drops continually according to the financial television pundits on CNN daily, yet people seem resilient and less than depressed than one might expect. Moreover, Obama has extremely high popularity and approval according to CNN polls. Whether Republican, Democrat, or Independent, one has to ask oneself at some point...How can that be?
Some are saying it has to do with a positive attitude. MyTicketIn.com owners Malcolm Robinson and wife Christi Robinson are enthusiastic when it comes to the economy. Why? Because they are part of one of the areas of the economy that are actually experiencing a positive boom: entertainment event ticket sales. "The economy is arguably good in our line of business, probably because people want to cheer up and have fun after all the depressing news on television, even after losing a household income source in some cases," says Robinson, "We provide tickets to fun Houston and national events. It's reassuring to see people spend a little money to buy the family Houston Astros tickets or see a Rockets game, or to go to the Houston Rodeo events and just enjoy themselves. I think it's also a very reassuring experience for people to see others enjoying themselves despite the gloomy economic news on television."
We asked Robinson about the timing of the annual Houston Rodeo and Livestock show that is going on right now. Robinson replied, "The Houston Rodeo is our biggest-selling ticket item at the moment, no question. The timing is fortuitously coinciding with the recession blues, since Houstonians are not going to miss the Rodeo if they already have been going in previous years." And in fact the turn-out has been enthusiastic according to local television news reports, despite the ubiquitous economic woes. And surprising to some, all ethnic backgrounds and walks of life have been making a showing to the general fare Rodeo Houston events, despite background noise about the event not being by nature a multicultural event. "I've no doubt all those stories on the news are based in reality, but what we see is the other side of people's attitudes and we see everybody getting involved with the Rodeo," says Robinson.
What about Houston's prodigal Astros? After all, the next big ticket sales item for brokers is Houston Astros tickets. It certainly would be a challenge to sell the Astros to a fan base already being told the lineup is not ideal. "Astros tickets are also doing better than expected, despite the horrific outlook on the lineup given by more than a few disgruntled sports writers out there. I don't know what it is. Maybe Houstonians really do care more about getting on with life than about political disagreements about how we got here. It's really been kind of reaffirming for us as small business owners. It's almost like your attitude can really change your situation. Rodeo and Astros tickets are just naturally within that area of people's lives, like movies or birthdays. It's just something you do because it helps you to enjoy your life better."
What is not up for debate is how important to the local economy it is for major attractions and business as usual to continue on unabated, especially in any industry where lots of Houstonians are employed or derive their incomes. In Houston, the Astros really are a staple revenue (and spending) source for the local economy. Perhaps attitude really is a lot of the bigger picture. After all, Wall Street claims to know this better than anyone else. If consumer spirits are high and hopes are alive, people spend more money and exchange the lifeblood of the economy; life goes on, at least for another day, another week, another month. And when they stop buying and selling? Well, it's not as good for anyone when that happens. Astros tickets sales could very well become a symbol for how Houston residents are able to deal with the very serious economic concerns going on in early to mid 2009. The reality is that business owners all over Houston and all over the nation are depending upon the resilience of the human spirit to pull everyone through and support their businesses.
MyTicketIn urges Houstonians and Texas locals to support the Houston Astros by continuing to buy tickets to local games held at Minute Maid Park, as well as Toyota Center tickets and Reliant Stadium tickets. MyTicketIn continues to offer Astros tickets and Houston rodeo concert tickets at the MyTicketIn.com website, or they may be reached via Phone by calling sales at 832-519-0386. Houston-based corporations interested in creating corporate ticketing programs that center on local teams and venues can contact Malcolm Robinson directly at the number above for more details about their Corporate Events Progam.
# # #