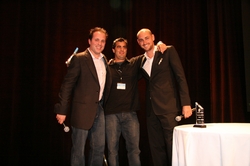 Switching careers or even industries can be a scary transition for many people. When you find yourself between a rock and a hard place you have to take chances
San Diego, California (PRWEB) April 27, 2009
By the mid 2007, Jerry Rocco had enough of the real estate industry and its decline. What once was a thriving industry had quickly become nothing but a bad word! After being in a declining market for the past two years, Rocco knew he didn't have the time to wait it out. He had to go elsewhere.
Times certainly haven't gotten any easier with the current economic downturn. "Switching careers or even industries can be a scary transition for many people. When you find yourself between a rock and a hard place you have to take chances," said Rocco.
In late 2007, Rocco took that chance. With no prior experience he entered the network internet marketing industry, using CarbonCopyPRO. CarbonCopyPRO is a simple, yet powerful marketing system that has been on a tear since the release of the turn-key "business in a box."
Provided with all the tools necessary and an ambitious outlook on life, Rocco has quickly risen through the ranks of the industry. Less than one year later on October 18, 2008, he received "The Master Marketer" award at the CarbonCopyPRO Marketing event but it didn't end there. CarbonCopyPRO has recently promoted Rocco to Leadership Level 3. L3 is a designation given to very few members and based solely on the ability to build and support a team. "It's been great to watch Jerry's business take off, and it just goes to show that with some hard work and fortitude anything is possible," said co-founder Jay Kubassek
"We're trying to help people jump into a thriving industry, where the income potential is there", said Rocco. CarbonCopyPRO provides members with pre-defined websites, auto responders, qualifying filters, a high-quality call center and most importantly, an intensive training program which dramatically increases the chances of success for any home-based entrepreneur.
Rocco used CarbonCopyPRO as a starting point to jump into his own business. In the wake of his success, Rocco expanded his reach by co-founding iMar Solutions LLC with experienced and trusted internet marketer Steven Schwartz. "Your business doesn't stop with CarbonCopyPro," said Schwartz. "They get you on your feet, provide you with a toolbox full of resources, and give you the confidence needed to start a successful internet marketing business. There really are endless opportunities in today's online environment!"
###