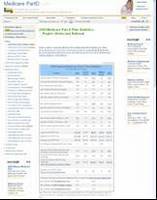 We designed our Part D plan summaries to provide a quick comparison of changes in the 2008 and 2009 Medicare Part D landscapes
Saint Augustine, FL (Vocus) September 26, 2008
The Medicare-PartD.com website now offers Medicare beneficiaries and advocates an insight into the 2009 prescription drug plans. Based on the extensive 2009 Medicare Part D plan information recently released by the Centers for Medicare and Medicaid Services (CMS), Medicare-PartD.com has developed national and state one-page interactive Part D plan summaries.
"We designed our Part D plan summaries to provide a quick comparison of changes in the 2008 and 2009 Medicare Part D landscapes," notes Dr. Susan Johnson technical director of the Medicare-PartD.com website. "Our Part D plan information is concisely organized allowing users to start with either a national or state overview of Part D plans and then 'clicking' on a specific statistic reveals the underlying details."
According to 2009 CMS Part D plan data, the average monthly Medicare Part D premium across the nation (excluding the five United States Territories) will increase to $46 or 14% above the 2008 national monthly premium average of $40 with actual average monthly premium increases varying by state. For example, the 2009 average Part D premium for residents of Pennsylvania will increase to $46, a 21% increase over the 2008 average Part D plan premium of $38.
The range of 2009 Medicare Part D plan premiums across the country extends from a low of $10.30 (First Health PartD - Secure in New Mexico) to a high of $136.80 (Aetna Medicare Rx Premier in New York). The 2009 variation in monthly premiums can be compared to the 2008 national premium range of $9.80 to $107.50.
Medicare beneficiaries will also find that fewer Part D plan premiums qualify for the Low-Income Subsidy. For example, in California nine (9) Medicare Part D plans qualified for the 2008 Low-Income Subsidy, however in 2009 only six (6) Part D plans will qualify. In other states such as Texas , 14 Part D plans qualify for the Low-Income Subsidy in 2009 as compared to 15 Part D plans in 2008, a decrease of only one Part D plan.
Although most states still will offer a large selection of 2009 Medicare Part D plans, the average number of Part D plans per state fell from 53 plans in 2008 to 49 Part D plans in 2009. For example, residents of Ohio will see almost a 16% decrease in Part D plans, down from 58 Part D plans in 2008 to 49 Part D plans in 2009.
Medicare Part D beneficiaries will also notice other changes in 2009 Part D plan designs. In 2009, the majority of Part D plans will not have an initial deductible. In addition, only 25% of the 2009 Part D plans will offer some gap coverage and, although no 2009 Part D plan will offer complete donut hole coverage, three regional prescription drug plans are offering limited brand-name coverage in the gap.
The newly released 2009 Medicare Part D data can be found directly at PDP-Facts.com and joins the other online tools, resources, Medicare Part D Newsletter, and tutorials designed to help Medicare beneficiaries, advocates, advisors, and insurance agents navigate the Medicare prescription drug plans (PDPs).
About Medicare-PartD.com
Medicare-PartD.com is one of the nation's largest private internet sources of Medicare Part D prescription drug information. The Medicare-PartD.com website is jointly operated by National Insurance Markets, Inc. (Pittsburgh, PA) and Q1Group, LLC (Saint Augustine, FL).
###