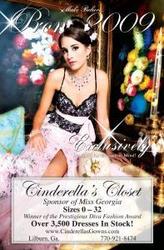 The gowns this year have a variety of designs and fabrics, sure to please even the pickiest of teenagers
Atlanta, GA (PRWEB) February 2, 2009
Cinderella's Gowns (CinderellasGowns.com), a national leader for prom dresses and formal evening gowns, has announced their yearly catalog is fresh off of the printing press for 2009. Filled with over 100 pages of beautifully designed prom dresses, it is sure to be a popular resource for 2009 fashion trends.
The 2009 edition is well worth the wait. Tammy Ussery-Bakhtiari, owner of Cinderella's Gowns and her assistant Courtney Bryson designed the magazine themselves. The two had complete control of every aspect of designing, creating, shooting and editing throughout the entire project. Having a reputation for completing projects of grand scale, they stretched their imaginations to the fullest to create a unique collection of photographs of the latest 2009 formal fashions.
"The gowns this year have a variety of designs and fabrics, sure to please even the pickiest of teenagers," explains Tammy Ussery-Bakhtiari. "The trends this year are big over sized silk prints mixed with bright colors; colors you wouldn't even imagine putting together, and they end up making a beautiful story of water colors."
How to Order a Copy:
The full collection of unique and limited prom gowns can be views at CinderellasGowns.com. To order a copy of the catalog, click on the 2009 Prom and Pageant Must Haves link, then click on the 2009 Cinderella's Closet Collection Catalog link to order a copy. Copies are available for $5.00, while supplies last.
More 2009 Fashion Trends:
Look to 2009 as the year grand full ball gowns have also make a comeback. The multi layers of tulle and lace are very Cinderella. Even stripes and plaids were used this season with huge oversized bows. Bows are everywhere, including the one loop bow that you see a lot of on the shoulders of the gowns. Silks, tulle, chiffon, lame and knit jerseys are the popular fabrics for the season and Vintage is definitely in, everywhere. The use of Vintage hats, gloves and jewelry create that picture perfect assemble when used creatively, like you see in the CinderellasGowns.com collection.
Ussery-Bakhtiari added, "This season I would certainly describe the trend as 'artsy.' Artsy lets you make believe, have fun, and be creative. Use the over sized flowers in your hair, the big top hat with tons of tulle, and distinctive canes as an accessory. You can paint your own picture for prom and be the girl that all will remember."
Prom Dress Model Search:
Interested in being a featured model in next year's catalog? Visit our Prom Girl Model Search page at CinderellasGowns.com/prom-girl-model-search-i-3.html.
For additional information about 2009 prom dresses, designers, and fashions for 2009, visit cinderellasgowns.com.
About Cinderella's Gowns:
For over 18 years Cinderella's Gowns has been a leader in prom dresses and pageant dresses. The company is the winner of the prestigious "DIVA" award, the "Oscars of Fashion," and is also the official dress sponsor of Miss Georgia USA and Miss Georgia America. Owner Tammy Ussery-Bakhtiari is a recognized contributor to media in the teen fashion industry and has had her works published in "Your Prom," "Cosmo Girl" and "Seventeen" magazines. For more information, visit cinderellasgowns.com or call 770-921-8474.
###