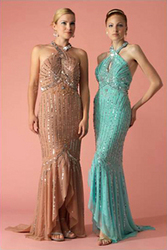 We (Cinderella's Gowns) are excited about the new trends for 2009 prom dress fashions
Atlanta, GA (PRWEB) January 5, 2009
What will be the leading fashions for 2009 Prom Dresses? Cinderella's Gowns (cinderellasgowns.com), a nationally recognized source for prom dresses and formal evening gowns, has made several 2009 prom fashion predictions. According to Cinderella's Gowns, the 2009 prom dress season will be highlighted by a return to punch colors, metallic fabrics, and dazzling beadwork. Also be on the lookout for great examples of empire dresses.
With prom a few months away, premiere designers are releasing their newest and sexiest prom dresses ever. Look for examples of 2009 prom dress fashions to soon hit magazine shelves and on websites such as cinderellasgowns.com.
What's New for 2009:
One of the biggest trends for 2009 is prints and vivacious colors--think 1980s. Everything from floral to animal prints to abstracts is popular this year. Prom dresses for 2009 are going to be sexy and fun--to be a trendsetter, go for eye-catching, bright dresses instead of traditional dresses and subtle colors.
Metallic Fabric is Back, and Better:
Forget the crunchy metallic fabrics of the past. Metallic is back, and better than ever before. The metallic is from a new form of lame' (pronounced "lah-MAY") that is applied to fabric like stretch jersey and charmeuse (a lightweight fabric woven with a satin weave), as opposed to the crunchy lame' of the 1980s. Many 2009 designer collections include metallic dresses that are flirty, fun, and comfortable.
Goodbye Sequins, Hello Beads:
Beads are also in this year. 2008 was all about sequins, and 2009 will be about beads and details. Some 2009 prom dresses will have beaded designs covering the entire prom dress. Others will have beaded details at the empire seam, which makes the trend even sexier.
Distinct 2009 Style - The Empire:
The Empire, the cut that fits tight under the bust and then floats away from the body, is expected to be very popular this year. Celebrities such as Jessica Alba, Cate Blanchett, and Nicole Kidman wore empire dresses on the red carpet at the 2008 Academy Awards, and empire dresses are certain to be seen at prom this year.
"We (Cinderella's Gowns) are excited about the new trends for 2009 prom dress fashions," explains Tammy Ussery-Bakhtiari, owner of Cinderella's Gowns. "From fabrics to colors to style, 2009 is going to be a memorable year for prom dress fashion. We look forward to seeing great examples from new designers and new dress styles."
Top 2009 Designers to Keep an Eye On:
The top designers of 2009 prom dresses are predicted to be Jovani, Tony Bowls, and Tiffany. As usual, elegant Alyce prom dresses and Riva prom dresses, with their high cut, are very stylish and expected to be popular this year.
Jovani's prom dress collection includes retro and vintage styles with exotic fabrics and exquisite prom dresses. Expect growing interest for 2009 Jovani prom dresses. Celebrities such as Hilary Duff, Carrie Underwood, and Tamala Jones have worn Jovani's stylish and high quality dresses on the red carpet.
The Paris Collection by Tony Bowls offers eye-catching dresses with luxurious fabrics, intricate hand-beading, and sparking sequins. Paris by Tony Bowls has sleek and sophisticated prom dresses with sexy, low-cut backs, full length gowns, and fun, flirty, short dresses.
Tiffany Designs is one of the largest and most popular designers of prom dresses. Tiffany's Collections include Tiffany Designs, Studio 17, and Panolpy Prom. The owner, Wen Wu, is known for his perfectly designed prom dresses and evening gowns. The 2009 Tiffany prom dress collection offers full length, colorful prom dresses that are playful and cute.
Up and Coming Designer - Cassandra Stone:
Cassandra Stone recently changed designers and her 2009 prom dress line is certain to gain attention. The 2009 collection has a variety of styles to fit your body perfectly. Cassandra's halter dress has a sexy open back while offering full support in the front. Her jersey knits are unbelievably comfortable and hug a woman's curves, and her A-line dresses flatter every shape. Cassandra Stone prom dresses also include intricate beading and flirty designs.
Summary of 2009 Prom Dress Trends:
Look for these trends in 2009 prom dress collections:

Metallic Fabric (made with a new form of lame that is soft)
Fun patterns
Stretch jersey or charmeuse
An Empire Cut (where the waist line is right below the bust)
For additional information about prom dress designers, and fashions for 2009, visit cinderellasgowns.com.
About Cinderella's Gowns:
For over 18 years Cinderella's Gowns has been a leader in prom dresses and Pageant Dresses. The company is the winner of the prestigious "DIVA" award, the "Oscars of Fashion," and is also the official dress sponsor of Miss Georgia USA and Miss Georgia America. Owner Tammy Ussery-Bakhtiari is a recognized contributor to media in the teen fashion industry and has had her works published in "Your Prom," "Cosmo Girl" and "Seventeen" magazines. For more information, visit cinderellasgowns.com or call 770-921-8474.
###