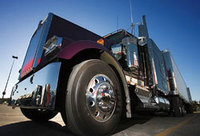 The demand for trucking is irrelevant to the fuel prices. High or low, things will always need to be shipped
Orange Park, FL (PRWEB) February 3, 2009
Last year saw record prices for gasoline in the United States, with some parts of the country paying over $4 a gallon for gas.
The U.S. Department of Energy reports that the average price of a gallon of diesel fuel reached a record high of $4.76 last July. However, the average price has dropped to $2.44, down 51 percent from the peak price, and prices are expected to keep falling. This is good news for truck drivers and the truck schools that train them. Truckers are expected to still be in demand in 2009.
The continuing demand for truck drivers means steady enrollment for truck schools like National Truck Drivers School. This established Truck Driving School offers a challenging two part truck driving training program. Once students complete the truck driving training, they will be eligible to obtain their commercial driver's license (CDL licensing).
"The demand for trucking is irrelevant to the fuel prices. High or low, things will always need to be shipped," says David Rose, an employee for National Training Schools.
The American Trucking Association states that there will be a shortfall of over 111,000 truck drivers by 2014.
About National Truck Drivers School:
National Truck Drivers School is a nationally accredited career school in Florida that has trained over 30,000 men and women since 1978. A series of unique courses and programs teach qualified applicants to drive big rigs in a matter of weeks, enabling them to pass their CDL Training and get their CDL licensing and become safe, well paid operators of semi tractor trailers.
Contact:
Contact Information:
David Rose
National Training
http://www.truckschool.com
1-800-488-7364
###