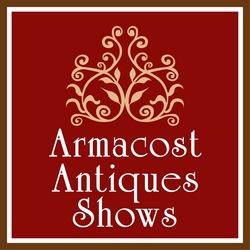 It's a tasty treat for the mind and senses and just the right antidote to the nightly news
Washington, DC (Vocus) January 5, 2009
Whether decorating one room or a whole house, treasure-seekers will delight in discovering thousands of the finest antiques on the market today at the Historic Annapolis Antiques Show, January 16-18 at the Medford National Guard Armory.
Marking its 39th consecutive year, the show will bring together 32 of the nation's most reputable dealers offering for sale more than 6,000 examples of antiques and fine art.
Visitors will find furniture, paintings, prints, glass, ceramics, textiles, rugs, silver, clocks, jewelry, religious icons, folk art, and military and maritime antiques from four centuries. Every item is backed by a guarantee of authenticity.
"It's a tasty treat for the mind and senses and just the right antidote to the nightly news," says Bob James, president of Armacost Antiques Shows. "Especially when times are tough, you're wise to experience the sheer beauty, design and craftsmanship that antiques represent—and maybe take a little of it home with you."
Dealers participating in the show include Appleton Manor Antiques & Gallery, New Ipswich, NH; Anna's Antiques, Bluffton, SC; At the Sign of the Sycamore, Sewickley, PA; Aydin Oriental Rugs, Germantown, MD; Baldwin House Antiques, Strasburg, PA; Mary Jane Barr Antiques, Frederick, MD; Katherine Blair & Associates, Hammond, LA; Brill's Antiques, Newport News, VA; Church Hill Antiques, Pikesville, MD; Dawson Gallery, Annapolis, MD; Drusilla's Books, Baltimore, MD; J&R Ferris Antiques, Madison, NY; Stephen M. Foster Fine Arts, Washington, DC; The Hanebergs Antiques, East Lyme, CT; Heirloom Maps, Kensington, MD; J&M Antiques, East Amherst, NY; Made in Russia, Palm Beach, FL; Manlove's Choice Antiques, Greenwood, DE; Merry Walk Antiques, Annapolis, MD; Neverbird Antiques, Surry, VA; Peenstra Antiques Appraisals, Annapolis, MD; Perry-Joyce Fine Arts, Sawyer, MI; Howard Price Fine Art, Lake Worth, FL; Rutabaga Pie Antiques, Chesterfield, MO; Shaeffer's Antiques, Glyndon, MD; Josephine Hart Thrasher, Alexandria, VA; Time & Strike, McLean, VA; and Washington Square Antiques, Alexandria, VA.
Hours of the show are Friday, January 16, 11 am-5 pm; Saturday, January 17, 11 am-6 pm; and Sunday, January 18, 12 noon-5 pm.
Admission tickets can be purchased at the door for $15 each or for $12 each at ArmacostAntiquesShows.com. Children under 12 are free.
The show is located at Medford National Guard Armory at 18 Willow Street. Free parking is available.
Proceeds from the show help fund efforts by the Historic Annapolis Foundation to preserve and restore historic buildings in Annapolis and conduct educational events that celebrate the city's rich colonial heritage.
Separate tickets are required for the preview party, January 15, 6 pm-9 pm, and for all other special events. More information is available at 410-267-8146.
About Armacost Antiques Shows
Armacost Antiques Shows] lets people of all ages discover the simple pleasure of owning fine antiques. Visitors to our shows can shop, look and learn in friendly surroundings, knowing they can buy with a guarantee of authenticity. All shows benefit nonprofits, including museums, churches, social service agencies and preservation groups. The nonprofit sponsors help generate enthusiasm for antiques while delivering much-needed financial support for their institutions and communities. Information is available at http://www.ArmacostAntiquesShows.com.
###