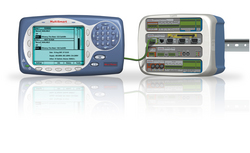 Brisbane, Australia (PRWEB) January 5, 2009
The latest version of MultiSmart firmware includes a "level locked" feature. The feature uses the fact that level is always changing in a lift station, and, therefore, when the measured level change is smaller than expected it indicates a level device problem.
The feature is available as part of the standard pump controller functionality in MultiSmart. The values are easily configured by a non-technical end-user through the intuitive menus. The user can select different parameters for different times of the day -- this is a key element of the feature, as level changes vary considerably during a 24-hour period.
For example, the MultiSmart might generate a locked level alarm if the level hasn't changed by more than 10% within a 15 minutes period between 6 a.m. and 9 a.m., but between 10 p.m. and 4 a.m. the locked level alarm might be set to only 5% within a one hour period.
The MultiSmart pump station manager is the next generation of technology for water and wastewater lift stations, combining the best of pump controllers, PLCs and RTUs. MultiSmart allows water and wastewater utilities to manage their networks much more effectively and reliably -- with a low whole of life cost.
MultiSmart comes with a 5-year warranty and free lifetime firmware upgrades.
# # #