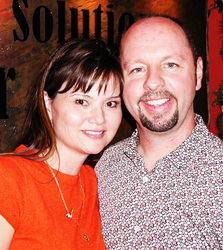 In the tiny Australian market alone - just 27,000 beauty and hair salons - we're enrolling over 400 salons a year into the program
Scottsdale, AZ (PRWEB) January 5, 2009
Kanna Reilly was a top-earning executive in insurance sales when she decided to quit and - with husband Tim, a chiropractor - decided to pour everything they had into the small non-invasive medspa and skin treatment business Tim had set up at his practise in Scottsdale.
They thought they were doing all the right things, buying more and more expensive equipment as they waited by the phone for the expected flood of clients. There was no flood.
"Nothing happened," says Dr Reilly. "We were doing all the glossy, expensive marketing everybody was telling us to do, but it wasn't working. And with our line of credit maxed out, we really were on the brink of giving up and closing our doors."
With only $7,000 a month coming in - and rent of $4,000 a month going out - they got desperate. Kanna got online, and started searching for something, anything that would help them 'get out of this mess'.
"I kept Googling 'salon marketing' and 'spa marketing' and this Australian company http://www.worldwidesalonmarketing.com kept coming up in the searches. I read their websites over and over again. They had masses of testimonials from salon & spa owners all over the world, and they were offering a 'toolkit' of direct response marketing ads, flyers, letters and other material specially written for the beauty industry, and coaching in how to use it. It was an $8,0000 deal, and we didn't even have $1,000 to spare," said Kanna. "But they were offering a 30-day free trial. So we nervously signed up. The rest, as they say, is history."
Tim & Kanna got their toolkit, and were horrified at how 'unprofessional' the marketing templates looked. "Lots of text, no pretty pictures, real 'hard-nosed' stuff. At first we just couldn't imagine our market responding to this sort of material," says Kanna. "But we swallowed our pride, started sending out the letters and flyers...and in the first week, we took $9,000 in sales. We were stunned."
By the tenth month of using the program, their monthly sales were up to $72,000. "I guess we just decided not to take part in the recession," says Kanna.
They were so impressed, they flew to California in September to meet with Worldwide Salon Marketing's co-founder, former TV producer Greg Milner, when he arrived from Australia to address a conference of salon & spa owners.
The Reillys signed a deal to buy exclusive distribution rights for the company's Inner Circle marketing & mentoring program for Arizona and Nevada, with options on at least five other states.
With 350,000 salons & spas across the US, Worldwide Salon Marketing expects the American market to be worth over $50 million a year in sales of its profit-boosting programs.
"In the tiny Australian market alone - just 27,000 beauty and hair salons - we're enrolling over 400 salons a year into the program," says Milner. "That's over $3 million in front-end sales alone, without annual renewal fees. So just 2% of the U.S. market is worth more than $50 million."
The Reillys are the first in the U.S. to sign up as distributors, but Milner says there will be room for others, and is seeking a national outfit to take on a Master License for the entire U.S.
In the meantime, the Reillys will handle all U.S. inquiries for the system, so their distribution business looks like getting off to a flying start. Over 100 salons & spas apply for membership of the program every month, with half of those in the U.S.
Contacts for more information:
Dr Tim Reilly (480) 294-0555 (cell)
For information on franchising & Master License: Stan Cobbold (858) 9269-9234.
###