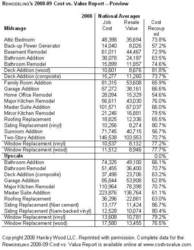 They'll be able to sort the city data tables, make comparisons with other cities, or compare this year's data to last year's.
Washington, DC (PRWEB) January 5, 2009
REMODELING magazine has just released its annual Cost vs. Value Report. The 2008-09 report, offered free to the industry for the first time this year, has increased coverage from 60 to 79 U.S. cities. The report, available at http://www.costvsvalue.com, contains data that compares construction costs for popular remodeling projects against the share of those costs recovered at resale. In addition to city data, the report includes tables with national and regional averages and complete project descriptions for all 30 projects surveyed.
"This year, we've enhanced the sort features, making the online tables even more useful. Not only can projects be sorted alphabetically, by cost, or by percent of share returned, but registered users will be able to display city data on screen," said Sal Alfano, editorial director of REMODELING. "They'll be able to sort the city data tables, make comparisons with other cities, or compare this year's data to last year's."
The new Web site also provides supplementary demographic information from the 2000 Census of Population and Housing by the U.S. Bureau of the Census.
A preview of the national tables is included with this release. Any excerpts from these data tables must be attributed to Hanley Wood, LLC.
About REMODELING's Cost vs. Value Report:
Published for over 20 years, REMODELING's prestigious Cost vs. Value Report compares construction cost with resale value for common home improvement projects in 79 U.S. markets. REMODELING magazine reaches 80,000 remodeling professionals who are the top influencers, specifiers and purchasers of products and services in the $306 billion remodeling industry. Construction costs are provided by Hometech Information Systems (http://www.hometechonline.com), a remodeling estimating software company based in Bethesda, Md. Resale value data are aggregated from estimates provided by members of the National Association of Realtors (http://www.realtor.org) through an email survey broadcast by Realtor magazine. Indianapolis-based Specpan, a market research company, hosts the web-based survey, collects and compiles the data, and provides pre- and post-survey consulting.
About Hanley Wood:
Hanley Wood, LLC, is the premier media and information company serving housing and construction. Through four operating divisions, the company produces award-winning magazines and Web sites, marquee trade shows and events, rich data and custom marketing solutions. The company also is North America's leading publisher of home plans. Hanley Wood Business Media (Washington, D.C.), publishes 34award-winning residential and commercial construction titles, including BUILDER, REMODELING, ARCHITECT, CONCRETE CONSTRUCTION and residential architect. Hanley Wood Business Media also offers the construction industry's foremost collection of Web sites, including BUILDER ONLINE, REMODELING ONLINE, and ebuild, the comprehensive online guide to building products, as well as the largest collection of house plans online through eplans.com and Dream Home Source.
Founded in 1976, Hanley Wood is a $250 million company owned by affiliates of JPMorgan Partners, LLC. CCMP Capital Advisors manages the Hanley Wood investment for JPMorgan Partners.
###