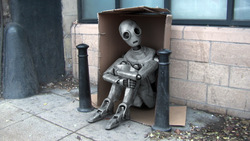 This prompted us to load it on to YouTube which is better geared to handle multi views
(PRWEB) January 5, 2009
The minute-long film tells the story of computer generated character, AHD168, whose part in a TV advert was written-out due to credit crunched budgetary constraints.
The plight of AHD168 has struck a chord with advertising creatives up and down the country who empathise with the little robot's sad search for a meaningful role in a TV advert.
"We sent the link of the film to clients and friends in the industry and were pleasantly surprised by the numbers of views linking to our website.
"This prompted us to load it on to YouTube which is better geared to handle multi views," said Anthony Hartley-Denton, MD of AHD Imaging.
Anthony's team of motion imagining experts became attached to the rather doleful character of AHD168 and decided to let him star in their own Christmas card.
The one-minute film can be viewed by following this link: http://uk.youtube.com/watch?v=84-fbO9pSo0&fmt=18
The viral is indicative of the CGI work AHD has been undertaking for leading retailers and property developers and has this year also branched out into visual effects and post production work.
AHD168 is still a bit lonely and still available for work and anyone wanting to befriend him or maybe even hire him can say hello on Facebook.
AHD's property clients include ASK Developments and Allied London, and the agency has also this year produced a suite of films for the Greater Manchester Transport Innovation Fund (TIF) bid and a number of national broadcast projects.
ENDS
For further information contact Heather Price or Daniel Kennedy at SKV Public Relations on 0161 838 7770 or heather.price@skvpr.co.uk
###