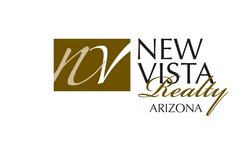 This is a wonderful honor and one we are very proud of
Scottsdale, AZ (PRWEB) January 7, 2009 –
Co-owners Gail Buck and Sara Stevens of New Vista Realty Arizona are proud to announce they have received the New Vista Asset Management Award as the top producing broker in New Vista Asset Management's network. This award affirms Buck's strategy of showing prospective homeowners how to profit from the tighter housing market.
"Sometimes our hardest job is to reeducate our clientele. We try to get people to focus on the opportunities this crisis presents," said Buck. "With the constant drumbeat of bad economic news, people are usually timid and fearful. How many of us have said 'if only I had bought that property before the price shot up'? With property values at all time low and interest rates increasingly affordable, savvy investors are scooping up properties and first time buyers have opportunities to get properties that would have been unattainable two or three years ago."
Approximately 200 brokers were up for the prestigious award from New Vista Asset Management, a fast-growing asset management company whose mission is to create affordable housing for minorities and first-time buyers, often through the foreclosure market.
"This is a wonderful honor and one we are very proud of," said Buck, owner and broker with New Vista Realty Arizona. "Our goal is to provide minorities and low-to moderate-income families a home of their own they can be proud of. To be recognized as the top producing broker by accomplishing that goal is an achievement we are thrilled to receive."
Since its inception, New Vista Realty Arizona has been following the same mantra as New Vista Asset Management in presenting home-buying opportunities to many who may not have believed purchasing their own home was a realistic option. A short time ago, many could not even consider buying a house because high prices kept them shut out. Falling prices mean home ownership is now within their grasp.
"While our properties are available for everyone, our mission is to provide home buying opportunities for the owner-occupant with special emphasis to the underserved communities" said Buck, who has been interviewed twice recently by KGUN Channel 9 News in Tucson for her successful work in helping buyers, especially minorities, thrive in the current foreclosure market.
New Vista Realty Arizona prides itself on becoming a catalyst for many minorities in their community to realize their dream of home ownership. According to Stevens, owner and associate broker, "Almost 90 percent of our properties have been sold to owner occupants versus investors. We feel that it is our responsibility to get the word out and utilize the current market opportunities to help stimulate the economy while educating and counseling to do our part in assuring that these families do not experience foreclosures in their future."
Of the nearly 90 percent owner occupant sales, close to 30 percent have been to minorities.
The nation's economic turmoil also means that right now is the perfect time for a first-time homebuyer to seize.
"This is great time, full of opportunities for everyone. The current market has assisted in making the American Dream an American Realty for many. It is an amazing, exciting time," Buck said.
About New Vista Realty Arizona
New Vista Realty Arizona is a high volume Real Estate Brokerage specializing in the real estate owned (REO) market with emphasis on providing opportunities and education to first-time homebuyers. They are located at 6210 E Thomas Rd, Suite 210, Scottsdale, AZ 85251. For more information, visit http://www.newvistarealtyarizona.com.
Contact:
Gail Buck
480-970-5572
Sara Stevens
Office: 480-970-5572
###