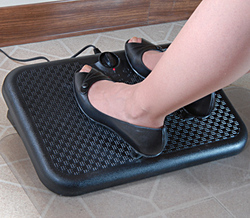 Toasty Toes keeps my feet and legs comfortable at work instead of being cold all the time
Cleveland, OH (PRWEB) January 5, 2009
Using less power than a light bulb, the new Toasty Toes ergonomic heated footrest provides gentle and safe radiant heat for legs and feet. There are no exposed elements, blowers, or carbon monoxide, so the Toasty Toes is safe to use near children and pets.
Toasty Toes is adjustable, and may be used flat, inclined, or upright as a radiant heat panel. But at 90 watts, less than a standard 100-watt light bulb, this heated foot rest uses a fraction of the energy of a standard 1500-watt space heater.
In addition to being more cost-efficient, Toasty Toes is safer than a traditional space heater as it never heats higher than 140 degrees Fahrenheit. The Consumer Product Safety Commission estimates that space heaters, including both fixed and portable varieties, are associated with 21,800 residential fires every year. ETL listed, Toasty Toes never gets hot enough to ever cause a fire, but still delivers comfortable, radiant heat to where it's needed most--to your feet and lower legs.
"Toasty Toes keeps my feet and legs comfortable at work instead of being cold all the time," said Susan Jennifer of the heated footrest.
Measuring 12" x 18" and weighing only five pounds, Toasty Toes is portable enough to be used both at the office and around home. The elegant black-on-black embossed design matches any decor. The Toasty Toes ergonomic, heated footrest is an economical solution to keeping warm this winter season.
About Martinson-Nicholls
Martinson-Nicholls, has established itself as a leader in custom floor matting, heated floor mats, and safety solutions for more than 25 years.
Martinson-Nicholls provides the customer with the exact size matting needed--small, large, standard, nonstandard, special shapes and logos. Custom installations are also a specialty of the company.
Anti-slip safety tapes and treads are available in various sizes and textures from hand cut or die cut pieces to full rolls and special shapes. For more information, please visit http://www.floormat.com.
###