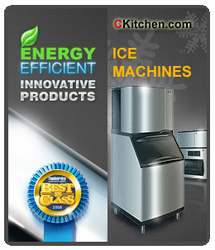 They were also having fresh water problems. They banned water-cooled machines because of the amount of water consumption they require.
New York, NY (PRWEB) January 8, 2009
Thinking about updating your business' appliances to save money in the New Year? Then there's something that energy analysts at CKitchen.com want you to know if you're trying to save money on your business's utility costs: using an energy-efficient ice machine may save you big bucks.
For the average business that uses a commercial ice machine, the ice maker accounts for about 11% of the business's refrigeration energy use. However, it may account for a much larger portion of water use, as some ice machines use an around the clock stream of water to produce and cool the ice. Non-energy-efficient ice machines not only drain electric energy, but they also require a huge amount of water resources. The impact can be a financial burden for businesses and cause a major strain on environmental resources.
The good news is that there is hope for businesses looking to reduce electric and water utility costs. According to a report by Energy Star, water efficient ice makers save businesses an average of 10-15% more water and about 1160KWh per year than standard models. That amounts to a savings of about 2,700 gallons of water and about $110 from utility costs per year.
According to Michael Newman, sales manager for CKitchen.com, some states do not allow ice makers that are not CEE certified and Energy Star efficient. "California created the California Energy Commission in 2006 to help stop the blackouts in the summers," said Mr. Newman. "They were also having fresh water problems. They banned water-cooled machines because of the amount of water consumption they require."
Other states, including Oregon and Washington, have followed suit and now require more water and energy-efficient models for their businesses.
Plus, when a business uses a non-energy-efficient water-cooled ice maker, they may not only be paying for the water they purchase from the city, but they may also have to pay for sewage costs when that water drains from the machine, said Mr. Newman. "The operating expenses for some ice machines can be more because businesses may have to pay for the water that they get from the tap and also for the sewage." While not all cities charge for sewage costs, many cities, such as New York City, do.
When a customer goes to purchase an energy-efficient ice maker, the customer should take a variety of variables into account in order to get the best rates and long-term benefits, such as durability. They should also purchase from a company that offers free shipping, free water filters and a low-price guarantee, like CKitchen.com.
More About Ckitchen.com:
CKitchen.com is a division of E Friedman Assoc. Inc., providing more than 25 years of quality ice machine equipment and customer service. Established in 1984, E. Friedman is a fully authorized dealer that represents all major brands of restaurant equipment, including Manitowoc, Scotsman, SerVend, and ICE O-Matic.
CKitchen.com offers more than 50,000 popular food service equipment and supply items through their Web site and maintains a database of more than 300,000 products. E. Friedman is a member of The EDI Consortium with over $1 billion in annual sales.
For more information, visit CKitchen.com.
###