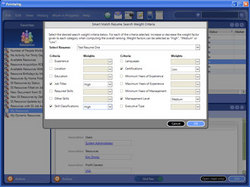 Atlanta, GA (PRWEB) January 9, 2009
Success in today's challenging economic climate demands that recruiting and staffing companies redouble their focus on speed, efficiency and accuracy in delivering well-qualified candidates to their customers. VCG offers recruiting and staffing firms exciting new integrated tools that enable that success with version 1.4 of their Pointwing Front Office recruiting software.
Pointwing Smart Match resume search, which is capable of reducing your time-to-find 100-fold, is the newest addition to the Pointwing Front Office recruiting software module. It gives you the fastest, most intelligent and accurate means of finding the ideal candidate for every requisition.
Fully integrating the Sovren (http://www.sovren.com)] Semantic Matching Engine, Pointwing's Smart Match resume search capability goes far beyond simple keyword searching, matching and ranking. Instead it uses sophisticated context-aware semantic matching of profiles between your job orders or candidate profiles and candidate resumes. This artificial intelligence, when applied to your resume searches, offers you more speed and greater relevance in the results.
Robert Ruff, founder and CEO of Sovren Group, noted that, "We're very pleased to integrate the unique capabilities of the Sovren Semantic Matching Engine with Pointwing. It gives recruiters the ability to not only find candidates that match the requested career and experience profile, but to also weight their search for people who fit that profile today, not years ago. For example, if you are trying to hire a sales manager with 10-20 years of career experience and five or more years in management, Pointwing Smart Match knows that a person who used to be a sales manager, but who is now the President, is actually not a good match. No other engine can do that."
Steve Taylor, President and CEO of VCG, said, "The recruiting and staffing industry has built its success on its ability to quickly respond with 'just-in-time' candidates and employees to help businesses perform better. With Pointwing Smart Match we've extended the Pointwing Front Office module's core functionality another step. We've developed a polished and customizable platform that gives recruiting and staffing professionals the means to deliver exceptional service quality with speed and efficiency. And that means more successful placements and job order fills - and greater profitability."
About Pointwing
Pointwing® is a modular recruiting software suite that accelerates the process of finding and placing the people most likely to thrive and streamlines unique business processes to improve productivity, control costs and manage margins. Modules available include:
Pointwing Front Office - the core recruiting software module that accelerates recruiting and sales by integrating account and candidate/employee management, Smart Match resume search, job placement, two-way Microsoft Outlook integration and more.
Pointwing Self Service - a Web portal module that connects the Pointwing Front Office module to your Web site in real-time, enabling you to post jobs and resources/candidates to search for jobs, register and/or update their profile, upload their resume and apply for jobs.
Pointwing Software Kit - a module which gives you access to Pointwing's open API to create custom applications that integrate with Pointwing or integrate Pointwing with virtually any third-party application.
Pointwing is easily deployed in the manner best suited to your firms' recruiting business operational needs: On-demand software as a service (SaaS) subscription; managed services (licensed software with VCG-hosting); or enterprise (licensed software with self-hosting).
About VCG
VCG provides comprehensive staffing and recruiting solutions that power success. Since 1976, VCG has helped hundreds of companies worldwide achieve operational excellence by streamlining their unique business processes and accelerating finding and placing the people most likely to thrive. VCG and Pointwing are registered trademarks of VCG, LLC. For more information visit: VCGsoftware.com or Pointwing.com or call 1.800.318.4983.
###