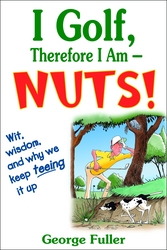 Personally, I prefer to take my drops and still have my wits about me to admire the views
Champaign, IL (PRWEB) January 1, 2009
No sport--and perhaps no activity of any kind--tests one's character so much as golf. Truly a pastime that enthusiasts love to hate and hate to love, golf instills equally high levels of elation and frustration. Yet, 26 million Americans consider themselves golfers and many will resolve to improve their game this year. To those people, golf humorist George Fuller says, "Practice schmactice." He understands the plight of golfers and pokes fun at their idiosyncrasies in the new book I Golf, Therefore I Am--Nuts! (Human Kinetics, 2009).
"We're all good at something," says Fuller. "It's just that the vast majority of us are not good at golf." He notes that even great players like Jack Nicklaus and Ben Hogan have claimed to miss better than everyone else and hit just one really good shot per round. "Given that set of criteria, I'd be lucky to hit one really good shot per decade," he reasons. "So, practice? Uh, no thanks. My oven needs cleaning."
Instead of taking golf too seriously, Fuller advises enjoying the game, its ability to bring people together, and the opportunities golf bestows for getting outside to enjoy nature. "Where else would I have been able to play on top of an active volcano, through towering redwood trees, past alligator filled ponds and next to rattlesnakes?" he asks.
"Personally, I prefer to take my drops and still have my wits about me to admire the views," Fuller adds. "I say, go for maximum pleasure: Don't anger the alligators or rattlesnakes--and whatever you do, don't anger yourself."
Recreational and competitive golfers alike relate to Fuller's depiction of the game and his comical take on the sport. Actor Craig T. Nelson comments, "For those of us who spend time in that place called golf hell, this is a wonderful respite--a cool, refreshing vacation."
I Golf, Therefore I Am--Nuts! includes more than 40 satirical essays that cover everything from quirks and superstitions of the PGA tour to Mulligans, the patron saint of forgiveness. For more information on I Golf, Therefore I Am--Nuts! or other golf books, visit http://www.HumanKinetics.com or call 1-800-747-4457.
ABOUT THE AUTHOR
George Fuller is publisher and editor in chief of Tee It Up magazine (geared to golfers in Southern California) and partner in a nationally syndicated radio show of the same name. He has been in the publishing business specializing in travel and golf for more than 15 years and has been a professional writer for more than 20 years, using his humor to add a perspective that has proven popular with his readers.
Fuller has authored eight books; the most recent two are California Golf: The Complete Guide and Discover Hawaii's Best Golf. He also has an online following, serving as the regular golf travel correspondent for CBS Sportsline. Former editor in chief of Links--The Best of Golf magazine and founder of Golf Living magazine, Fuller has contributed to many respected newspapers and magazines, including Robb Report, the Wall Street Journal, San Francisco Chronicle, the Los Angeles Times, Time magazine, Golf magazine, Travel & Leisure Golf, Links--The Best of Golf magazine, and Coastal Living.
CONTENTS
Part I: The First Tee
Chapter 1. In the Beginning There Was Golf
Chapter 2. Any Way You Slice It, Golf Is a Beautiful Game
Chapter 3. The Patron Saint of Forgiveness: Seeking the Elusive Mulligan
Chapter 4. Couples Golf
Chapter 5. The Laws of Golf (Bye-Bye, Birdie)
Chapter 6. Forget Love . . . Laugh at the One You're With
Part II: The Power Game
Chapter 7. The Par-Boiled Language of Golf
Chapter 8. Desperately Seeking Three-Wood
Chapter 9. Making Fast Friends on the Links
Chapter 10. Hype Versus Reality
Chapter 11. The Course of the Future? Let's Hope Not
Part III: The Short Game
Chapter 12. Putting Stroke du Jour
Chapter 13. Practice Smacktish
Chapter 14. Client Golf
Chapter 15. A Primer on Golf Fashion
Chapter 16. Golden Golf: Till Death Do Us Part
Part IV: The Mental Game
Chapter 17. Gamesmanship
Chapter 18. E9
Chapter 19. The Tyranny of Par
Chapter 20. Remembering Why We Play
Chapter 21. Open Letter to the PGA Tour Commissioner
Chapter 22. Leaps of Faith
Part V: Course Management
Chapter 23. Golf? Or a Lime Exfoliation?
Chapter 24. March of the Haggis
Chapter 25. Shark Versus Bear
Chapter 26. Golf in the Middle of Nowhere
Chapter 27. Travels With Dave
Chapter 28. Dreaming My Dreams
Chapter 29. Whipped by the Master . . . Again
Part VI: Tales From the Tour
Chapter 30. The Thrill of Victory . . . Well, Almost
Chapter 31. A Babe in Mastersland
Chapter 32. How to Host a U.S. Open
Chapter 33. Looking Down at the Grass
Chapter 34. Whistling While You Work: A Sure Cure for the Uptight Blues
Chapter 35. Ba-Da-Bing: A Proposal to Improve the AT&T Pebble Beach National Pro-Am, Including Changing That Way-too-Long Name and Bringing Back the Spirit of Bing Crosby
Part VII: The 19th Hole
Chapter 36. Dog Is My Copilot
Chapter 37. Dewsweepers, Die-Hards, and the Dearly Departed
Chapter 38. Dweezel and Chuckles Rip Me a Shred Stick
Chapter 39. My Favorite Excuse
Chapter 40. Top 10 New Year's Resolutions for Golfers
Chapter 41. All Hail American Ingenuity!
###