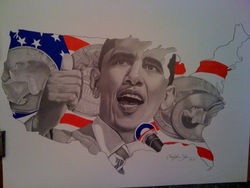 My love for what Barack Obama has done stems from the central message of his campaign which was CHANGE
Washington, DC (PRWEB) January 19, 2009
Christopher Shannon Art today announced the television unveiling of the recent release "Change in America", the limited edition print commemorating the historic election of President-Elect Barack Obama as the nations first African American President.
"I am pleased with the exposure that this limited edition drawing is receiving..." says Shawn Cook public relations specialist with Say it and See It Productions. "I personally am on my own campaign to have Christopher Shannon be the official artist for the Obama administration..." says Shawn.
WUSATV 9, a Washington DC area news broadcast station, did a news feature on Christopher Shannon on Sunday, January 4, 2009. This was Christopher Shannon's first television interview surrounding his dynamic drawings.
"This segment allowed Christopher to give voice to what leaves the eyes of the rest of us desiring for more of..." says Shawn Cook. Christopher Shannon began drawing after being incarcerated for eight years. His story is quite amazing. After being released from prison, Christopher made it to the Washington DC area with just 42 cents in his pocket and a passion for being a legitimate success.
The television interview primarily focused on Change in America which is the first in a series of drawings by Christopher Shannon that will be dedicated to the Barack Obama Presidency. There are only one thousand of these prints that will be in circulation. Each one will be signed and numbered and will be accompanied by a certificate of authenticity. "This is the most unique Barack Obama Art that is available for purchase..." says Johann King art enthusiast and DC resident. " I would compare and put this up against any piece out there and for only $350 unframed, its a steal."
"My love for what Barack Obama has done stems from the central message of his campaign which was CHANGE," says Christopher Shannon. "I am a person who believes in the power of change. I spent 8 years away from my family and friends changing and because I committed to change, I was able to discover my purpose and my power as a professional artist."
Christopher Shannon also used this news broadcast as an opportunity to display some of his other works as a privately commissioned artist including a stunning water color entitled the Struggle. "The Struggle depicts Christopher's own frustration and regret for the behaviors that led to his conviction and time in prison," says Shawn Cook. "Christopher's life story is just as fascinating as his art. There is a very happy ending to this story for Christopher however and the world will soon know who this guy is."
This television interview is the first, but certainly not the last of Christopher. Limited Edition prints of Change in America can be purchased by visiting ChristopherShannonArt.com] or contacting Christopher directly.
"There will only be 1000 of these prints in circulation," says Christopher Shannon. "I want art collectors and art enthusiast alike to be inspired by these works. This picture is the first of three illustrations dedicated to the presidency of Barack Obama, the entire collection will be unveiled on February 16th, which is ironically Presidents Day."
About the Artist:
Christopher Shannon is a self taught freelance artist, illustrator with over 10 years of experience as a professional. Christopher's passion for drawing and painting grew out of the unpleasant experience of being incarcerated for eight years. This experience however gave birth to Christopher's passion for art and his unusual techniques. Christopher Shannon has developed a technique that brings realistic effects to many portraits. In some cases his artwork looks as if the original photo has been enlarged. A detailed Bio-Interview can be found on Christophershannonart.com.
Fine Art Reproductions with a Personal Touch:
Fine art collectors, commercial buyers and interior designers should be delighted to know that only the highest quality fine art reproductions are offered by Christopher Shannon Art. Most of the original drawings are fairly large so they are being presented in several sizes appropriate for any wall space.
As one might imagine, Christopher Shannon's exacting nature commands quality at every level. Every drawing is signed by the artist and accompanied by a certificate of authenticity.
For more information or to order limited edition prints or commissioned art visit http://www.ChristopherShannonArt.com.
Media Inquires:
Say It & See It Productions, LLC
Press Contact:
Shawn Matthew Cook
Ph: 301-943-8666
###