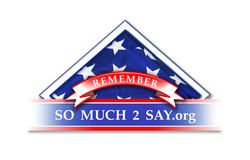 I've been there and seen it all
(PRWEB) January 5, 2009
Men and women who put their lives on the line every day now have a resource to deliver personal messages to their family, friends and loved ones should they be unable to share their words themselves. With the launch of SoMuch2Say.Org, Firefighters, Police Officers, Military and others who selflessly serve their country can create messages for their loved ones on a secure online network and have them delivered only if the worst should happen.
"You have so much to say ... let us help you say it," says Michael Williams, founder of SoMuch2Say.Org.
On September 11, 2001, Firefighters and Police Officers sacrificed their lives to save unknown strangers trapped in buildings. Buildings fell and lives were forever changed. Today, soldiers overseas are showing that same dedication and bravery every day to protect the American way of life. "It is what we do," says a Police Officer from South San Francisco PD.
That statement best sums up the courage, valor and integrity of heroes past and present, but few will ever understand. Many who serve in such positions will never get the chance to say goodbye to their loved ones: friends, husbands, wives and especially their children. Instead, families are left to find their own closure, forced to move on or to understand why people risk their lives to serve and protect others. It is with that knowledge, that emptiness, that SoMuch2Say.Org was developed.
"I've been there and seen it all," says Williams, who served a tour of duty in Afghanistan and worked private security operations in Sudan, Pakistan and Central Asia. "I've faced the dangers and too often seen my life flash before my eyes. I've written 'those letters' and hoped that my mom and family would never have to read them, but writing them made it easier to carry out my assignments. I found some peace knowing I had said what I needed to say in case something happened. I wanted a way to stay in touch with my loved ones if I passed on."
SoMuch2Say.Org members can create personal messages including pictures, videos, documents and more, as well as a date to send the message. With this service, individuals can still be there on birthdays, graduations and anniversaries.
Veterans who served in Iraq and Afghanistan partnered with Police Officers and Firefighters in the San Francisco Bay Area to assist in the creation of SoMuch2Say.Org; many of them serving on the Board of Advisors to constantly review and monitor the site for its legitimacy and accuracy.
Members of SoMuch2Say.Org pay a one-time fee of $24.95 to sign up. Portions of the payment are donated to organizations such as the National911 memorial foundation (national911memorial.org) and INTREPID-Fallen Heroes Foundation (fallenheroesfoundation.org).
For more information, visit http://www.SoMuch2Say.org.
# # #