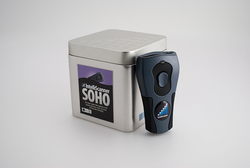 San Francisco, CA (PRWEB) January 7, 2009
IntelliScanner Corporation, creators of award-winning scanners and software that organize everything, today unveiled IntelliScanner SOHO, cubed. Conveniently packaged in a metallic, cubed box for easy storage, IntelliScanner SOHO's smart barcode scanner and software uses advanced barcode technology to organize business assets, inventory, media and more. New in 2009, IntelliScanner SOHO 120 offers customized asset tags, point of sale integration and new industrial barcode support.
IntelliScanner SOHO makes it easy for small businesses to organize, automate and keep track of business inventory. By scanning the barcode on business assets, users can automatically create a comprehensive inventory of what's in stock, where it is and what they have invested. IntelliScanner SOHO's intuitive software tools provide detailed reports, notifies when stock is running low and totals the value of current inventory. Advanced tools allow users to change quantities on the go and reconcile inventory.

Organize Inventory With Custom Asset Tags; New Symbology Support For Industry Barcodes
IntelliScanner SOHO organizes business assets that do not have barcodes by applying IntelliScanner Custom Asset Tags, pre-printed barcode tags used to track, sort and search inventory with ease. Users can now order Custom Asset Tags direct from IntelliScanner with their business name and a unique, serialized barcode number. Custom Asset Tags can also be personalized as "property of" tags with a business name to protect against lost or theft.
In addition, IntelliScanner SOHO now includes support for the Interleaved 2 of 5 and ITF-14 barcode symbologies, commonly used in industrial applications and on cartons, cases and palettes of retail products. Users can now scan these barcode symbologies for complete inventory control.

Scan Retail Items With Lightspeed Point Of Sale Integration
Small business owners can now use IntelliScanner SOHO to effortlessly integrate with LightSpeed, a third-party, Mac OS X point-of-sale (POS) system. Included with IntelliScanner SOHO is a LightSpeed POS Integration Guide, with examples and tools to help users customize the scanner for a retail environment. In addition, the scanner also includes keyboard emulation software to "type" barcodes into third-party applications such as FileMaker Pro, QuickBooks and MYOB and a Business Integration Kit with comprehensive documentation for using IntelliScanner SOHO in any business setting.
Pricing & Availability
IntelliScanner SOHO includes everything for small business organization in one cubed box - a portable USB barcode scanner, intelligent inventory and business software and pre-printed asset tags. The scanner and software system is now shipping worldwide for $299.00 USD at http://www.intelliscanner.com and this week at Macworld Expo 2009 (booth S-537). IntelliScanner SOHO is cross-platform for Mac OS X and Windows XP/Vista and requires an available USB port. For more information, visit:
http://www.intelliscanner.com/products/soho/
About IntelliScanner Corporation
IntelliScanner organizes everything with smart barcode scanners and software for home, business and education. The company's award-winning tools for PC and Mac organize book collections, wine, groceries, DVDs, comics, CDs, home assets, business inventory and more. (800) 550-5470; http://www.intelliscanner.com.
Copyright (c) 2009 IntelliScanner Corporation. All Rights Reserved.
All trademarks are the property of their respective owners.
###