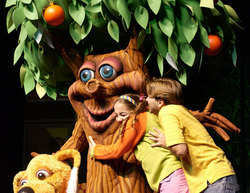 Time-Bandits - Pug & Zero
North Hollywood, California (PRWEB) January 6, 2009
Paul Brian McAvene, Head Production Designer and Owner of McAvene Designs Inc., has a new hit on his hands with "A Kid's Life!" ™. This high energy children's musical production is just completing a successful Off-Broadway run at the York Theatre located in New York City's famous Times Square! Seen by 133,000 children. The show shares stories of childhood wonder as it beautifully illustrates the timeless issues of pet kindness and a general respect for nature. "A Kid's Life!" ™is a family friendly show that entertains and educates both adult and child. Audience members from of all ages have enthusiastically embraced the experience of "A Kid's Life!"
McAvene, a twenty-five year veteran of Entertainment Production Design, collaborated with Keith Markinson, the Broadway show's Creator/Writer/Director/Producer to bring Markinson's childhood vision to life. Sparing no expense, McAvene beautifully created such architectural wonders as a 9-foot dancing and singing orange tree complete with pick-able fruit! And so the freshly squeezed orange juice is produced with compliments of "Bart, The Orange Tree" and help from Mr. Sullivan, "The Grocer". Starsky is the show's scene stealing golden retriever that is modeled directly after Markinson's own childhood pet. Starsky sings and dances and brings the McAvene costume creation to glorious life.
Please visit the website, http://www.akidslife.com, for the latest show tour information.
"A Kid's Life!" ™ is the 6th "kid friendly" family production for McAvene. The first family production began 15 years ago with A.N.N. (Animal News Network) an all puppet, half hour television series fashioned after the now famous C.N.N. (Cable News Network). The show presented global news in an acceptable children's format. McAvene's second family production was the Emmy Award winning CBS Saturday morning television series called "Feild Trip". "Field Trip" took kids around the world through the eyes of two time-traveling misfits with a thirst for knowledge named Pugs and Zero. They were "Time-Bandits - Pug & Zero". McAvene is also credited for creating the gritty and dark world of "Greg the Bunny", a half hour primetime series for The Fox Network. McAvene also worked on the ABC series, "Muppets Tonight"!
Leslie Carrera-Rudolph and "The Wahoo Wagon" was the inspiration for McAvene's next collaboration. "The Wahoo Wagon" featured music, dance, and interactive activities with a live audience. After a successful 18-month run at the world famous El Capitan Theatre on Hollywood's Walk of Fame, Miss Carrera-Rudolph introduced the newest featured character on the long running PBS Series, "Sesame Street". Leslie created the puppet character, "Abby Cadabby", a lovable pig-tailed little girl. Leslie's own young-at-heart attitude is infused into the characterization of Abby. Leslie's life-long dream to "teach children through imagination", was fulfilled.
Leslie's creation, Abby, was recently featured in a privileged position as a giant balloon character in the Macy's Thanksgiving Day Parade. Abby was seen side-by-side with "Elmo", another iconic Sesame Street character. A loveable and talking doll version of Abby is currently available. This new doll is staged to undoubtedly eclipse the popularity of the "Tickle Me Elmo" sensation of years ago. Congratulations go out to Leslie Carrera-Rudolph and of course Abby Cadabby!
Currently in development is "The King of Big Bear Lake"™, an interactive stage play written by John A. Hays. Set against the real life backdrop of Big Bear Lake, California, the play features Bigelow, "Big", Bear, known to all as Papa, and his loveable family of Bears. This family production touches the hearts of all ages as the adults in the audience reminisce with the experiences of growing up and the children identify with the stories as told by the Bears. John A. Hays has teamed with Paul McAvene in this ground-breaking interactive theatrical project.
For the latest information, please visit http://McAveneDesigns.com, or call his Hollywood Studio at (818) 985-8282.
###