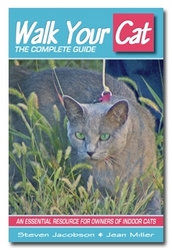 Walk Your Cat: The Complete Guide
Blacksburg, VA (PRWEB) January 6, 2009
"Walk Your Cat: The Complete Guide" is the first full-length book to take a serious look at the subject of training cats to walk on a leash. By getting to the heart of feline behavior, the authors, Steven Jacobson and Jean Miller, explain how and why cats can be leash-trained and why it helps keep them healthy and happy.
Walking cats might be a surprising topic to some. Yet, according to "Walk Your Cat", the activity plays a unique and important role in the lives of modern domestic cats. Indoor cats are prone to boredom, depression and obesity. Owners who leash-train their cats now have an easy and effective way to avoid such problems.
Animal-welfare groups widely advocate keeping cats indoors. Take, for example, the Humane Society of America's Safe Cats™ campaign, which aims to teach cat owners about disease, poison, traffic and other outdoor dangers. Such campaigns face resistance from many owners, who find it unnatural for cats to be kept indoors. These owners have felt the need to weigh their concern for their cats' safety against what they consider a natural life for their cats.
By offering a comprehensive look at all aspects of leash-training cats, the authors hope to convince owners that they can keep their cats safely indoors and still provide them with all the mental and physical stimulation that outdoor cats get. Persuading people to walk their cats is a challenge, admit the authors. Since cats are notoriously independent, it is often assumed that -- unlike dogs -- they cannot be leash-trained. But the authors explain that walking cats needs to be understood in terms of the many, and sometimes quirky, facets of feline social behavior.
Once owners have this knowledge -- provided in the book -- leash training is simple to master. "Walk Your Cat" includes valuable tips on everything from choosing a leash (some styles are unsuitable) to controlling and directing cats during walks. Along the way, it also provides a fascinating look at cat psychology. Excerpts from the book can be downloaded at http://www.walkyourcat.com/downloads.html. For additional information contact info (at) walkyourcat (dot) com.
###