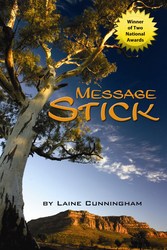 America has hit another growth spurt
Hillsborough, NC (Vocus) January 6, 2009
Although much has been made of shattered barriers in the 2008 presidential campaign, Barack Obama's victory is about much more than race. Instead, it's about the remaking of America from a closed, conservative society into the colorful melting pot it was always meant to be.
Laine Cunningham, author of novels that cross cultural, racial and religious boundaries, says, "Obama's success is rooted in a nation united by its differences."
Historic events helped pave the way, of course. Other black presidential contenders proved that individuals who aren't white could receive serious consideration as the nation's leaders. But their campaigns were muddled by historical events. The antagonism did nothing to help Shirley Chisholm, Al Sharpton, Alan Keyes or Jessie Jackson move beyond the issue of race.
Obama, though, represents today's global culture. He is both black and white…and African and Irish and Native American. He's lived in the U.S., Indonesia and Bali, and has visited his father's family in Kenya. His early years were spent in Hawaii, an island populated by every nation and race. "Obama is a global melting pot," Cunningham says. "He holds values that come from living the ideals of openness and acceptance."
The nation clearly agrees. A USA Today/Gallup poll conducted in December revealed that 32% of Americans consider Obama the most admired living man. Poll analysis Linda Saad says the figure is extraordinarily high. Comparisons have also been made to the Kennedy administration, which marked another time of hope and change. "America has hit another growth spurt," Cunningham says. "The changes we've been undergoing for years are finally maturing and being reflected at the highest levels of government."
Obama's entire campaign was driven by today's multicultural, boundary blurring lifestyle. As a centrist, Barack won support from women while also capturing the elusive male vote. He galvanized young voters and individuals who haven't voted for forty years. He won over black and Hispanic and white populations by proclaiming that they were the change they had been waiting for. Cunningham says that claim hits the heart of the nation. "We created a society in which he could win precisely because Obama is America and America is Obama."
She also says Obama will effectively represent this new America to the rest of the world. Foreign nationals from nearly every country tend to have a negative view of the U.S. Their views are influenced by Washington's political culture rather than by mainstream citizens.
Yet the nation is a diverse, energetic group that appreciates and respects other cultures. "Obama represents the best we have to offer," Cunningham says, "both for our own benefit and the benefit of other countries."
As he assumes command, the nation will continue celebrating. "There's a real feeling of leaving the past behind," Cunningham says. "We have a fresh face at the helm, one who represents the real America--bipartisan, multicultural, cross-generational. He's a kaleidoscope that mixes without losing the integrity of its individual parts…just like America."
She feels certain that the new administration will spark meaningful dialog among different groups. Cunningham's understanding of mainstream America and its diverse cultures stems from the intensive research she performs in order to write her novels. The process includes visiting other states and countries, interviewing immigrants, attending festivals and ceremonies, and reading hundreds of books. She utilized this approach while writing her first novel Message Stick, a suspense thriller built around social justice.
The novel's protagonist is a biracial Australian Aborigine who was removed from his family under the government's assimilation policy. Although touted as a measure to "save a dying race," the policy was supposed to eliminate any trace of Aboriginal heritage within three generations. Baz Luhrmann's movie Australia, featuring Nicole Kidman and Hugh Jackman, touches on the same issue. The effort lasted until the early 1970s, leaving hundreds of thousands of Aboriginal people today with no connection to their tribes or their culture. They are called the Stolen Generation.
In Message Stick, Gabriel Branch returns to the outback for the first time in over forty years. While searching the red desert for his best friend, he draws the attention of a Pitjantjatjara shaman. Dana Pukatja was caught up in the assimilation policy during an earlier generation. The two men take very different approaches to sorting out their lives and the global society Australia has become.
The conflicts in Message Stick go beyond racial divides. The importance of heritage and questions of self-identity take precedent for both men. Considering that America's president-elect struggled with those same issues, the novel's launch on January 20th seems prophetic.
Message Stick won national awards from the James Jones Literary Society and the Hackney Literary Contest. Advanced praise for the novel compares Cunningham to authors like Michael Ondaatje, Sarah Gruen and Alexander McCall Smith. The Hackney committee placed Cunningham in the ranks of Pulitzer Prize-winning authors like William Styron and Horton Foote.
Before writing this book, Cunningham spent six months camping alone in the outback. She learned to play the didgeridoo, discussed social issues with Australians from all walks of life, and listened to members of the Stolen Generation recount their stories. The author's website contains a media press room, an interview with the author, a novel excerpt, and a limited-time free e-book. The print version will be available January 20, 2009, through bookstores nationwide and Amazon.
The author has connected with dozens of media outlets including CNN, MSNBC, BNN (Canada), Viewpoints radio show, U.S. and international publications, and others. Her next work is an inspirational book.
Seven Sisters details the ancient lessons Aboriginal folktales offer modern society. She is currently writing her next novel. For author appearances, contact Cunningham at 336-267-6572. For book orders and media kits, contact Tracey Yellowhorse, book manager for Sun Dogs Creations, at 919-644-1807.
###