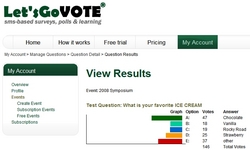 It only took a few minutes to create the questions. And Since nearly every student has a cell phone and is familiar with text messaging there was essentially no learning curve. I displayed one sample practice question, and we were off and running
Fullerton, CA (PRWEB) January 8, 2009
Let'sGoExpo, Inc, a leader in accessible web-based application development, released the initial version of its web-based audience response system using short messaging service (SMS), better known as text-messaging. Let'sGoVote (http://www.letsgovote.com) leverages the use of messaging capabilities found in most cell phones and eliminates costs and other limitations found in conventional hardware-based audience response systems. The service is designed for educators, trainers, professional speakers, and advertisers wishing to capture instant audience feedback without the constraints of hardware-based audience response systems.
LetsGoVote is free to users presenting to small groups. When responses from larger audiences is required, users may upgrade to an individual or corporate subscription which provides unlimited questions to audiences of any size.
LetsGoVote empowers trainers, teachers, professional presenters and advertisers with a simple tool that can be used in countless situations. Presenters can engage their audience by creating questions and answer options via the LetsGoVote website. The questions are displayed to the audience via a web page, and the audience is instructed to text message their responses. Users may also distribute their questions via print or other media. Presenters then reveal the voting results as they arrive seconds later. If a question has a correct answer, it can also be highlighted by the presenter. Windows users can also integrate the service into their Microsoft PowerPoint slides.
"LetsGoVote is an excellent example of the creative use of mainstream technology found in essentially every cell phone worldwide and putting it to work in business and education," states Steven Martinez, Vice President of the California-based company. "LetsGoVote provides significant cost savings to those in search of an classroom or audience response system. It eliminates the need of servers, routers, audience response keypads, and the maintenance associated with hardware and software. A hardware-based system for a 300 seat meeting room can easily run $35,000, while LetsGoVote only cost a few hundred dollars, has no upkeep expenses, and can be used in any room with internet and cellular access," states Martinez.
LetsGoVote solves challenges faced in today's budget-constrained public and private schools and universities. Studies have shown that student participation with response systems improves attentiveness, knowledge retention, and fosters participation when students can respond anonymously. The system can be used for surveys, polls, staff training, and marketing initiatives. Conference venues and organizers also have the opportunity to create revenue by offering the service to speakers or entire events.
Dr. Rebecca Kammer, Assistant Professor at the Southern California College of Optometry, recently incorporated the LetsGoVote service into her lectures to her optometry students. "It worked great" stated Dr. Kammer. "It only took a few minutes to create the questions. And Since nearly every student has a cell phone and is familiar with text messaging there was essentially no learning curve. I displayed one sample practice question, and we were off and running," Kammer said.
Upon registering with LetsGoVote, users automatically receive the free service which allows the creation of unlimited events and questions, each of which is limited to capturing up to 20 responses per question. Users and companies can upgrade to monthly, semi-annual, or annual subscriptions when greater than 20 responses per question are required, and when multiple user accounts are required. Subscriptions for government, educational institutions, and non-profit organizations are available at significant discounts. The company is also accepting applications from prospective resellers for the LetsGoVote service.
The LetsGoVote's website also meets the requirements of the Americans with Disabilities Act and other web and security standards.
About LetsGoVote & LetsGoExpo
LetsGoVotes parent, LetsGoExpo, Inc. (http://www.letsgoexpo.com) brings the meetings to the attendee rather than the attendee to the meeting. "Virtual" meetings, tradeshows, and e-learning minimizes and sometimes eliminates the challenges of budgets, travel, shipping, hotels, not to mention time away from home and family. Through a patent pending user interface which seamlessly melds voice over internet (VOIP) technology with an easy to navigate media, event, and learning content management system, LetsGoExpo empowers clients with numerous tools. The California based company is privately held.
###