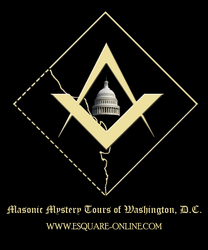 Washington, DC (Vocus) January 5, 2009
Are you visiting Washington, D.C. for the historic inauguration of President-Elect Barack Obama and Vice-President Joe Biden? Why not take the most unique tour available, conducted by Freemasons of Washington, D.C. These tours will reveal to you the symbolism within the architecture of the city and major monuments and landmarks, such as the Lincoln Memorial, the U.S. Capitol and the White House. Tours can also include visits to Masonic landmarks, such as the George Washington Masonic National Memorial, the House of the Temple of the Scottish Rite, and historic Masonic Lodges within the District of Columbia.
Find out how the inauguration parade can be traced back to Washington, D.C. Freemasons, and if there is really a secret symbol hidden in the city's design.
Film producer and Freemason, Akram Elias, has designed a unique approach that unveils the Masonic symbolism hidden in the architecture, layout, and design of Washington, DC.
Since 1996 we've had thousands of guests whose curiosity was satisfied by a rich and detailed introduction to the city from the viewpoint of the Initiated Eye.
Washington, D.C. is the first national capital to be designed as a seat of government, and the only capital to symbolically reflect and foster guiding values and principles. The Founding Fathers, especially the Freemasons among them, envisioned a city so beautiful and balanced that it would inspire enlightenment in those who lived and worked there.
All tours include a private tour director and chartered transportation around the city-if you already have a charter, we can come to you. Tours can be custom-designed to meet the needs of the client and can vary in length from a minimum of three hours, to a full day.
For more information, visit http://www.masonictours.com or call (888) 357-9150. You can also e-mail us at info(at)esquare-online(dot)com.
###