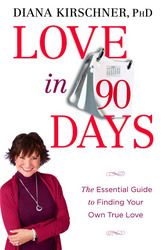 Will I ever find 'the one'?
New York, NY (PRWEB) January 6, 2009
Single women everywhere are looking for true love, and many are asking themselves the same things over and over: "Why hasn't he called?" "Why am I attracted to the wrong guys?" "Will I ever find 'the one'?" Psychologist Dr. Diana Kirschner helps women answer these questions once and for all in her new dating book, Love in 90 Days: The Essential Guide to Finding Your Own True Love. During the past 25 years, Dr. Kirschner has helped thousands of women break deadly dating habits, meet and attract terrific men, and discover the joys of a lasting, love relationship with her "Love in 90 Days Program." Now she's sharing her most effective strategies, based on hands-on experience and clinical research, with the world.
Loaded with step-by-step instructions, checklists, and weekly homework assignments, Love in 90 Days is also an intensely personal journey for each reader. Dr. Kirschner guides women along their own paths and at their own pace towards self discovery with her sage advice and tough love. Throughout the book, she dispels common misconceptions about love and dating, and shares personal stories from women who have successfully completed the Love in 90 Days Program. There's also a chapter devoted to the special issues faced by African-American women, single mothers, and women forty-five and older. Over the course of the full 13 weeks, Dr. Kirschner introduces her four-pronged approach to finding love:
Step One: Identify and Eliminate Deadly Dating Patterns
Dr. Kirschner has identified thirteen deadly dating patterns - and chances are, most women are familiar with more than one. Whether always lusting after unavailable men, settling for a man who provides security and companionship but no sparks, or getting lumped in as "one of the guys," these dating habits short circuit women's romantic lives. Using real-life examples to illustrate each pitfall, Dr. Kirschner identifies warning signs and presents exercises to help women take an honest look at their past relationships in order to break free from these behaviors.
Step Two: Learn and Master the Dating Program of Three
The Dating Program of Three safeguards women against the dangers of love addiction - falling too fast and too hard, usually for the wrong man - by requiring them to date at least three men at once. Following the rules of the Dating Program of Three also helps women boost their self- esteem and open themselves up to the possibility of men who may not be their usual "type." In Love in 90 Days, Dr. Kirschner provides dozens of tips for finding men to date, including secrets to successful online dating (music stars, writers, and millionaires all date online), advice on flirting, and homework assignments that ensure women will interact with at least three men every day.
Step Three: Discover and Nurture Your Best "Diamond Self"
Dr. Kirschner describes the "Diamond Self" as a woman's most dynamic, self-loving, and passionate identity. By eradicating negative thoughts and behaviors, women can re-discover their authentic selves - freeing them to live in the moment, and lay the foundation for lasting, real love. With concrete steps and lots of encouragement, Dr. Kirschner shows women how to face their fears and present their best selves to the world - opening up both dating opportunities and a path to personal growth.
Step Four: Find and Work With Love Mentors
Love Mentors are meant to be cheerleaders, sounding boards, and accountability partners for women as they work through the Love in 90 Days Program. No one succeeds in life alone - and love isn't any different. In Love in 90 Days, Dr. Kirschner suggests choosing Love Mentors who have been successful in love relationships, or who can provide deep emotional support or even help with personal style. With Dr. Kirschner and a stable of Love Mentors working behind the scenes, women can set the stage for lasting love.
In Love in 90 Days, single women will find everything they need to open up the possibilities that love has to offer - proven strategies to meet and attract men, concrete advice to break deadly dating habits, and the unconditional support of a psychologist who has helped thousands succeed at building wonderful relationships. Dr. Kirschner has created the ultimate guide to finding love for single women.
ABOUT THE AUTHOR
Diana Kirschner, Ph.D., is a psychologist and love expert who has helped thousands of single women get the love they want. Dr. Kirschner's book is the basis of her one-woman PBS TV Pledge Special, Finding Your Own True Love. Dr. Kirschner is also a recurring guest on the Today Show and the Morning Show With Mike & Juliet and starred as the Love Specialist on The Simple Life (2007). She has appeared on Oprah, Good Morning America and hundreds of radio shows. Dr. Kirschner writes articles regularly for Yahoo! Personals and has been widely quoted in the New York Times, USA Today, Time Magazine, The New York Post, The LA Times, Cosmopolitan, and in numerous online and offline publications. She has been married for over twenty-five years.
Dr. Kirschner's popular website is Love in 90 Days. The site includes a video dating blog and cutting-edge articles and quizzes on dating and relationship success for women of all ages that are based on the latest research and more than 25 years of clinical experience. It also offers a Daily Love Affirmation, a Love Advice Forum and a free love e-tips mini-course.
###