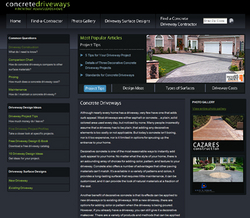 Yucaipa, CA (PRWEB) January 7, 2009
Considering replacing or pouring a new concrete driveway? Recently launched website, Concrete-Driveway.org offers a multitude of in-depth articles and photos covering everything there is to know about researching, choosing and installing a concrete driveway. Answering some of the most common driveway related questions, the site also provides detailed information on project tips, design ideas, types of concrete surfaces, installation costs and more.
The site features its most popular links in an easy-to-navigate table covering four general categories. Categories outline project tips, design ideas, types of surfaces and driveway costs. Along, with this table the site highlights the basics of driveway construction, a comparison chart comparing concrete to other popular materials, maintenance tips and offers a free driveway design E-book, available for download.
For a more realistic look at available design possibilities, the site offers an extensive photo gallery consumers can browse through for inspiration, and real-life examples of various surface types.
Although nearly every home has a driveway, very few have one that adds curb appeal. Most driveways are either asphalt or concrete…a plain, solid colored area used every day that goes unnoticed by all. Concrete-Driveway.org was created to explore the benefits and possibilities of decorative concrete, one of the most reasonable ways to instantly add curb appeal to your home.
Some of concrete's most noted benefits include that it's available in a variety of patterns and colors providing a durable surface that requires little maintenance, and it can be customized to resemble the look of natural stone materials at a lower cost. Decorative concrete is applicable on new driveways and to existing driveways in need of a makeover.
Concrete-Driveway.org also brings together consumers and local concrete contractors by pointing to a nationwide contractor directory. Consumers can use the site to learn about concrete driveways, choose photos of designs they like, and then access the directory for contact information for driveway contractors in their local area.
Photos courtesy of Bulach Custom Rock.
###