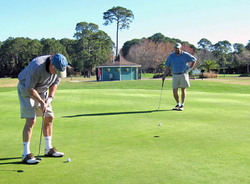 In terms of pricing, we try and offer something for everyone
Jekyll Island, GA (PRWEB) January 6, 2009
Mild climate and excellent course conditions make the Georgia coast a great winter golf escape. Jekyll Island, Georgia, on the Georgia coast, offers 4 courses for golfers to choose from and excellent hotel packages so they can stay and play. Tee times are numerous and rates are low. This is the perfect time and place for a winter weekend getaway.
On a typical winter's day on Jekyll Island, golfer's are greeted by blue sky, emerald fairways and warm hospitality. Jekyll Island is located on the Georgia coast and offers ideal conditions that attract golfers from colder climates to enjoy a low-key, winter golf escape. Jekyll Island has three 18-hole courses and the Great Dunes course which offers nine remaining holes from a 1928 layout by Walter Travis.
The lull in visitation between the busier fall and spring season means tee times are easy to come by, and valuable discounts are available. During the month of January, several Jekyll Island hotels are offering "Golfer's Heaven" packages which provide free green fees during a minimum two-night stay. Package prices start at just $34.50 per golfer per night. At the four-star Jekyll Island Club Hotel, packages are as low as $79 per person per night! Locals or those not staying in a participating hotel can take advantage of green fees and cart rental for as little as $46. On the historic Great Dunes course, golfer's can play all day for as little as $20 walking.
"In terms of pricing, we try and offer something for everyone," stated Harry Kicklighter, Jekyll Island Director of Golf and PGA Professional. "During the winter, it is great to see couples and families out enjoying the game, getting some fresh air."
In addition to an abundance of tee times, Jekyll Island also offers different programs including Play Golf America clinics and business league competition. When not on the course, guests to Jekyll Island can enjoy bicycling along over 20 miles of bike paths, taking in expansive natural areas. There is also 10-miles of uncrowded beach perfect for bike rides or quiet beachcombing. Only the hardiest "snowbirds" will take a dip in the cooler ocean water.
"We've been coming down to Jekyll every winter for the past six years," explained Ron Funderburk of Charlotte, NC. "We enjoy the Bluegrass Festival, but mostly the quiet, peaceful atmosphere."
Jekyll Island has seven operating hotels in addition to rental cottages available for both short- and long-term stays. To plan your winter escape - with golf or not - go to http://www.jekyllisland.com or contact the visitor information center at 877-4JEKYLL.
###