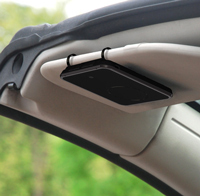 Paris, France (PRWEB) January 6, 2009
BLUETREK, a leading wireless consumer electronics brand of Bluetooth devices, announces two products using its new proprietary Crystalline™ Voice Technology for better sound and voice quality than every other Bluetooth product.
The Crystalline™ Voice Technology is implemented on the Crescendo™ headset and the CompactVoice™ visor-mounted in-car speakerphone product families being introduced at CES.

Crescendo is a high end sleek Bluetooth headset made for consumers who are picky about the sound and voice quality of their calls.
CompactVoice is a in-car speakerphone for mobile users who want superior hands-free voice quality in the cars.
The technological superiority of the Crystalline Voice Technology (CVT) is based on improvements in hardware and software. Devices with CVT have multiple microphones, advanced Digital Signal Processing (DSP) algorithms, and STEP Labs' patented STEPvoice™ microphone array technology and STEPsound™ intelligent speaker software that automatically enhances voice intelligibility and speech enunciation, while dynamically adjusts volume according to the ambient noise in the user's environment.
"BLUETREK is committed to improving the performance, style, and usefulness of Bluetooth devices," said Henri-Nicolas Olivier, CEO of ModeLabs Technologies. "We choose STEP Labs because they are committed to improving voice quality in consumer electronics regardless of noise and wind conditions and they have the best tuning and acoustic software solutions that BLUETREK customers and demanding Bluetooth users will appreciate for our new generation of Crystalline-enabled products."
This new generation of advanced Bluetooth products features voice control and voice prompts, superior noise cancellation, long battery life, caller name announcement, mobile phone address book synchronization, set and forget volume control, and near-perfect voice recognition even above 90dB background noise."
"BLUETREK devices are among the select few who meet the acoustic quality standards required to carry the STEP OnBoard™ seal," said Robert F. Mitro - CEO of STEP Labs. "The acoustic performance and voice quality of Crescendo and CompactVoice are among the best in the industry."
See these products at CES 2009 in STEP Labs' booth North 931.
About Bluetrek - http://www.bluetrek.com
Bluetrek®, a brand of universally compatible Bluetooth products made by ModeLabs Technologies, has applied its technical and engineering Bluetooth expertise to design innovative consumer products since 2001. Building on the phenomenal success of two million G2 headsets, Bluetrek continually blends unique designs with product performance for new collections of Bluetooth headsets and car kits. Bluetrek products are sold through mobile operators and leading retailers in over 40 countries. The Bluetrek brand and ModeLabs Technologies are part of ModeLabs Group (NYSE Euronext: MDL) http://www.modelabs.com which designs, develops and markets mobile phone handsets, accessories and services in an integrated and flexible manner for mobile operators, retailers and mass market brands.
About STEP Labs - http://www.step-labs.com
STEP Labs is a venture-backed, Silicon Valley-based acoustic software and acoustic design services company whose technology produces natural sounding voice communications even in extreme noise environments. STEP's patented technology enables near-perfect voice recognition and hands-free communication across a wide range of wireless telecommunications and consumer electronic devices. STEP Labs, STEPware, and Step OnBoard are trademarks of STEP Labs Inc.
To arrange a meeting during CES show call : +1 (718) 451 6299
###