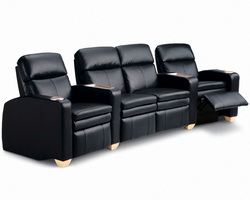 No matter the mix, it is important to create a comfortable viewing space for each partygoer.
Monroe, Mich. (PRWEB) January 6, 2009
Seventy-nine percent of Americans plan to watch the big game from home,* and for many that means parties! Because party crowds have varying degrees of interest in the game, making everyone comfortable could be a challenge. La-Z-Boy, known for providing comfortable furniture for more than 80 years, has written the playbook on the perfect party to accommodate armchair quarterbacks and fair-weather fans alike.
"Gameday parties are a tradition that many people look forward to - some have been involved with football pools all season long and others are just there for the fun," says Penny Eudy, product manager for La-Z-Boy. "No matter the mix, it is important to create a comfortable viewing space for each partygoer."
For the Die-Hards:
Go the extra yard and truly epitomize comfort for serious fans with home theater seating, such as the La-Z-Boy "Matinee," complete with cup holders, and put-your-feet-up comfort that will ensure no one will want or need to budge.
For the Gossip Girls (and Guys):
Create a "social circle" for the guests who aren't into the game, closer to the kitchen and refreshments and away from those likely to throw a penalty flag if they miss a play. Utilize kitchen chairs or unused ottomans like the La-Z-Boy "Leo" that can easily be moved toward the TV at halftime and then back to the social circle.
For the Youth League:
Use a separate room with a smaller TV for children's activities and contests, and let their energy and creativity flow - without disrupting serious fans. Set up a comfortable area on the floor with blankets and throw pillows so that the kids can be just as content as the winning team!
Game-time comfort can be found in all shapes and sizes at La-Z-Boy Furniture Galleries, La-Z-Boy Comfort StudiosSM dealers and anywhere genuine La-Z-Boy furniture is sold. Consumers can visit la-z-boy.com to find the La-Z-Boy dealer nearest them.
*According a national phone survey of 1,000 Americans conducted Nov. 30 through Dec. 3, 2007
About La-Z-Boy:
Headquartered in Monroe, Mich., La-Z-Boy is North America's largest manufacturer of upholstered furniture and the world's leading producer of reclining chairs. The company manufactures a full line of comfortable products for the living room and family room, including the company's world-famous recliners, reclining sofas and love seats, sleep sofas, modular furniture and leather upholstery, as well as stationary sofas, love seats and chairs. It is a division of La-Z-Boy Incorporated (NYSE: LZB), one of the nation's largest furniture manufacturers and marketers. Comfort. It's what we do.SM
###