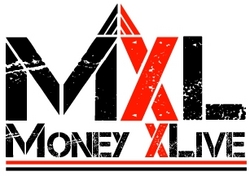 Our goal to provide a real world financial education and support nonprofit organizations that are helping to empower young adults
Anaheim, CA (PRWEB) January 8, 2009
Today's high school and college age youth face many financial challenges and find the 'old-school way' of learning financial literacy boring. Money XLive promises to break the mold and give today's youth an exciting way to pick up critical money and entrepreneurship lessons.
The Money XLive event will take place at the Grove of Anaheim on February 27th 2009 and brings together sport stars, celebrities and other entertainers to provide an inspirational financial education in a way that educates as well as entertains. Wilmer Valderrama (emcee), Chuck Liddell, Omar Hassan, Matt Leinart, Cris Judd and many top action sport stars have already given their support. Comedians, live band, DJ's and edu-tainment hip-hop artist Johnny Deas will be performing live. The event and companion 16-week, financial education, multimedia course take a holistic approach to helping young adults hone the financial literacy skills necessary for them to succeed in life.
Skyrocketing personal debt and resulting lifestyle burdens are directly related to people's level of financial education. High school seniors answered 48.3% of the basic financial literacy questions correctly; a decline from 52.4% in 2006, according to the Jump$tart Coalition 2008 survey. That statistic is especially worrisome when considering the Government Accountability Office report that states one third of retirement age workers in 2050 will have nothing saved in a 401(k) style account.
The Money XLive event will give attendees practical financial education tips and entrepreneurship skills while teaching the importance of giving back. "Our goal to provide a real world financial education and support nonprofit organizations that are helping to empower young adults" states Vince Shorb, founder of the National Youth Financial Educators Council and of Money XLive. Proceeds from Money XLive will support Junior Achievement, STANDUP for KIDS, the World Trust Foundation, Hip-Hop Summit Youth Council, Brockman Institute, AIGA Foundation and the Matt Leinart Foundation.
Tickets to this event have been donated to over 25 nonprofit organizations that empower youth and attendance is expected to exceed one thousand. Guests also receive complimentary red carpet pictures before stepping inside the full concert venue. The motivated participants can continue their learning after the event with the CashEdu 16 week, multimedia, financial education course that features exclusive celebrity interviews.
"The odds of teenagers today being over $30,000 in college debt when they leave college are about the same as flipping a coin." states Chad Penry, president of College Solution Providers and Money XLive. "We need to counteract years of advertisements and music videos that show lavish spending to provide a practical financial education that the MTV generation can relate to."
The goal of the Money XLive financial education event is to entertain and educate youth all over the Country. The next stop on the Money XLive financial literacy tour is the island of Oahu in Hawaii.
The National Youth Financial Educators Council (http://www.NYFEC.org), is dedicated to increasing financial literacy and produces financial education products and financial literacy events that today's youth can relate to. NYFEC trains and certifies financial educators, promotes financial literacy curriculum, provides success coaching programs and college planning though a partnership with College Solution Providers. Money XLive teaches the value of entrepreneurship, community service and financial responsibility though celebrity appearances, live entertainment, and sponsor showcases (http://www.MoneyXLive.com).
###