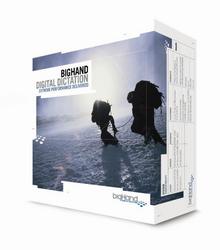 London, UK (PRWEB) January 7, 2009
BigHand has today announced that Sheffield Teaching Hospitals NHS Foundation Trust has implemented the BigHand digital dictation workflow system, incorporating over 1000 users spanning 5 hospitals on 2 campuses in one of the largest rollouts of Digital Dictation technology in the NHS. The replacement of analogue tape dictation equipment with the award winning digital dictation workflow system has enabled the Trust to improve efficiency and patient care; a 10 - 25% improvement in document turnaround time has resulted in some specialties achieving same day discharge summaries and typing of clinics in real time.
BigHand digital dictation workflow software for the NHS helps to remove many of the administrative delays that occur between dictation and typing of the notes, enabling and supporting Trusts to change working practices to improve efficiency and communication.
David Whitham, Informatics Director at Sheffield Teaching Hospitals NHS Foundation Trust comments:
''In Acute Medicine the Emergency Admissions Unit has identified significant benefits as a result of using BigHand over tape equipment. Digital dictation has streamlined the process from consultation to production of discharge summary and as a result, the Trust has experienced an improvement in turnaround times. It is now common practice for consultants to dictate letters straight after seeing patients rather than all at the end of clinic, in some of the medical specialties. Secretaries are therefore able in many cases to transcribe immediately following each attendance; ensuring documentation is ready for clinician sign off at the end of clinic. Acute Medicine, have also benefited from the ability to move dictations between secretarial groups across two of the Trusts sites, again helping to maximise the efficiency of secretarial staff time.''
Prior to implementing BigHand, consultants and clinicians across the Sheffield Teaching Hospitals NHS Foundation Trust dictated using analogue tape equipment, however tapes contributed to delays in production of documentation. Tapes on occasion corrupted, resulting in clinics needing to be re dictated, sound quality was often inferior, tapes became detached from the clinic notes and could be mislaid all effecting letter turnaround times, and as such, presented the Trust with a long term risk should the equipment continue to be used.
The combination of delays and cost implications of purchasing new tapes each month prompted a Trust wide review of the dictation and transcription process. BigHand digital dictation has enabled consultants to submit dictations direct into the Trust's workflow allowing secretaries to view and efficiently manage their workloads. Importantly, secretaries are now able to identify and expedite urgent patient reports, transcribing as soon as they are submitted, rather than trawling through hours of tape dictation and instructions. The Trust's secretarial teams are now working much more tightly, producing documentation in the fastest time possible; reducing costs and enhancing patient care.
During the past 12 months, a number of Trusts including The Mid Yorkshire Hospitals NHS Trust and the University Hospitals of Leicester NHS Trust have implemented BigHand Digital Dictation to improve patient care, reduce unnecessary expenditure such as temporary cover and recruitment costs, and deliver the 18 week pathway.
About BigHand
BigHand is based out of Chicago, London, Sydney and Toronto. BigHand is the leading digital dictation vendor in the global professional services sector. BigHand3 was awarded 'Best of Breed System of the Year' at the Legal Technology Awards for 2008, and BigHand Mobile (BlackBerry Edition) was voted 'Mobile Product of the Year' at the CNET Business Technology Awards 2008. BigHand has also been nominated in the Sixth Annual Law Technology News (LTN) Awards for 2009 as 'Dictation System of the Year' and 'Mobile Tool of the Year'. Further information is available at http://www.bighand.com
###