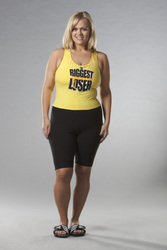 She is a welcome addition to our growing family.
New York, New York (PRWEB) January 7, 2009
DietsInReview.com is pleased to announce Coleen Skeabeck as the newest addition to its team. Coleen is known for her role as "America's Sweetheart" on NBC's Biggest Loser season six. Coleen will be featured as the Biggest Loser correspondent in the DietsInReview.com Diet Blog each Wednesday, where she'll provide video episodic recaps of Biggest Loser season seven.
"Coleen has an incredible ability to connect with fans and is passionate about sharing her weight loss experience with others trying to accomplish the same goal. Her personality and healthy living perspective is a perfect match for DietsInReview.com," said senior editor Brandi Koskie. "She is a welcome addition to our growing family."
Coleen made it to week nine in the 12-week reality competition. She lost an impressive 64 pounds, and continues to lose weight while pursuing her healthy new life in her beloved hometown of Cleveland.
About DietsInReview.com
DietsInReview is a leading diet and weight loss site, featuring more than 625 diet, weight loss program, diet pill and supplement reviews. Additionally, the Diet Blog is updated daily by a team of fitness and nutrition experts with the most need-to-know news and tips about weight loss. You'll also find a database of free healthy recipes that suit a variety of dietary needs. DietsinReview.com looks forward to being your trusted resource for healthy living.
###