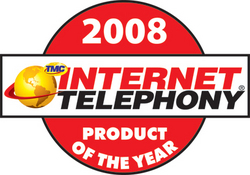 Internet Telephony is pleased to grant a 2008 Product of the Year Award to AireSpring for their Network Long Distance product. AireSpring has a history of cutting edge products and services at exceptional value
Van Nuys, CA (PRWEB) January 7, 2009
AireSpring announced today that Technology Marketing Corporation's (TMC®) Internet Telephony magazine http://www.itmag.com has named AireSpring's Network Long Distance as the recipient of its 2008 Product of the Year Award.
AireSpring Network Long Distance is a revolutionary product which delivers two T-1's worth of network capacity over a single DS-1 circuit. The product was designed to handle high calls per second and rigorous call center traffic. AireSpring Network Long Distance delivers double the capacity of a standard T-1 at substantially discounted rates.
"AireSpring is thrilled to be acknowledged by TMC, the publishers of Internet Telephony magazine, for our recent advance in Long Distance service. It has long been our goal to produce products which improve quality and service for customers and which also lower costs and add value," stated Todd Regan, AireSpring Sr. Vice President of Marketing. "We are particularly excited to bring the advantages of Voice Over IP and SIP to customers with traditional phone equipment as well as those with IP enabled systems."
"Internet Telephony is pleased to grant a 2008 Product of the Year Award to AireSpring for their Network Long Distance product. AireSpring has a history of cutting edge products and services at exceptional value," said Rich Tehrani, TMC President and Editor-in-Chief of Internet Telephony magazine. "We're proud to honor their accomplishments in the advancement of IP communications and look forward to more innovative solutions from them in the future."
A full list of Product of the Year winners will be published in the February, 2009 issue of Internet Telephony magazine. Internet Telephony has been the authority in IP communication since 1998™.
About AireSpring
Headquartered in Los Angeles, award winning AireSpring is one of the fastest growing telecommunications carriers in the USA, with over 3 billion call records processed every year. AireSpring is a privately held, diversified, debt-free, and full service communications company that offers a broad range of innovative telecommunications services at competitive prices.
AireSpring offers next-generation integrated, SIP/VoIP, voice, and data products designed to deliver power and flexibility at cost-effective rates. Information about AireSpring's SIP products can be found at AireSpring.com/sip. AireSpring has been voted, a "Product of the Year," "Best Telecom Deal," "Members Choice top reseller," and a "Top Channel Program." Telecom agents and Value Added Resellers can find more information about AireSpring's Agent/VAR program at the AireSpring Partner Contact Us page, or by contacting Todd Regan at (818) 786-8990, ext 374.
About Internet Telephony magazine
Internet Telephony has been the IP Communications Authority since 1998™. Beginning with the first issue in February of 1998, Internet Telephony magazine has been providing unbiased views of the complicated converged communications space. Internet Telephony offers rich content from solutions-focused editorial content to reviews on products and services from TMC Labs. Internet Telephony magazine reaches more than 225,000 readers, including pass-along readers. For more information, please visit http://www.itmag.com.
About TMC
Technology Marketing Corporation (TMC) is an integrated global media company helping our clients build communities in print, in person and online. TMC publishes Customer Interaction Solutions, Internet Telephony, Unified Communications, and NGN Magazine. TMC is also the first publisher to test new products in its own on-site laboratories, TMC Labs. TMCnet, TMC's Web site, is the leading source of news and articles for the communications and technology industries. TMCnet is read by three million unique visitors each month worldwide, according to Webtrends. In addition, TMC produces Internet Telephony Conference & EXPO and Communications Developer Conference. For more information about TMC, visit http://www.tmcnet.com.
###